Paper shopping bags are making a comeback at Woolworths as an alternative to reusable plastic bags.
In 20 stores across the country, Woolworths will be trialling the new paper bags for groceries, giving shoppers another option at the checkout.
Costing 20 cents each, the paper bags are said to be made from 80 per cent recycled material and 20 per cent virgin paper certified by the Forest Stewardship Council (FSC), which can be recycled in kerbside collection.
"The vast majority of our customers bring their own bags to shop, but we know there are occasions when they forget or visit our stores unplanned," a Woolworths spokesperson told Canstar Blue.
"Some customers have told us they would like the option of a paper bag when this happens.
"We're trialling paper bags in around 20 stores to test customer demand and will closely monitor feedback as we do."
Woolworths is continuing to offer customers its 'Bag for Good' for 99 cents, which can be replaced for free when it gets damaged, no matter when the customer bought it.
It also has 15 cent reusable plastic bags that can be recycled through REDcycle at each store location.
Since the phase out of single-use plastic bags in June 2018, more than 3 billion bags have been taken out of circulation, according to Woolworths.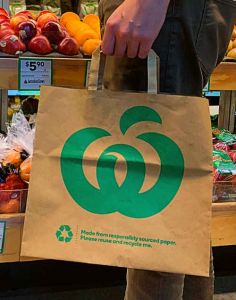 List of Woolworths stores with paper bags
Here is a list of Woolworths stores in which the paper bags are being trialled at:
Rouse Hill, NSW
Marrickville Metro, NSW
Town Hall, NSW
Neutral Bay, NSW
Double Bay, NSW
Bondi, NSW
Rozelle, NSW
Coogee, NSW
Paddington, NSW
Rose Bay, NSW
Cairns, QLD
Surfers Paradise, QLD
Pacific Fair, QLD
South Yarra, VIC
QV, VIC
Burwood Brickworks, VIC
Armadale, VIC
Black Rock, VIC
Hawksburn, VIC
St Kilda, VIC
Hawthorn, VIC
Photo credit: S_L/shutterstock.com