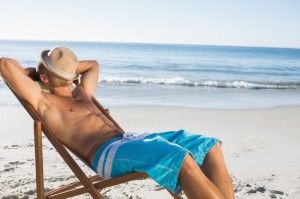 Results from our self-tanning survey suggest it's not just the ladies who think they look better with a nice tan. It turns out the men of Australia are some of the most dedicated "fakers" among us.
Of the roughly 500 Aussies we questioned, 43% of men claimed to be addicted to tanning, compared to 22% of women. And twice as many men (44%) than women have been told they use too much fake tan by their friends or family.
More women (85%) than men (70%) said they look better with a nice tan. But perhaps surprisingly, half of the men surveyed said they feel the need to spend lots of money to try to look their best. Only two in five women felt the same.
While 75% of the adults we surveyed use self-tanning products to avoid harmful UV damage, some are better at it than others. Interestingly Baby Boomers perceive themselves to be the best at applying fake tan, while the younger generations clearly need some more practice.
Two-thirds of Aussies find self-tanning products to be reasonably priced – which is just as well considering the average monthly spend of the adults we spoke to was $27.27, with Gen X ($39.40) clearly forking out the most for their tan.
And despite living in the Sunshine State, those in Queensland ($37.54) are happy to spend more than those in New South Wales or Victoria.
Nine out of 10 find self-tanning products cheaper than going to a professional tanning salon, although three in five said they would visit tanning salons more if it didn't cost them as much.
If you think a nice tan helps you look your best, check out our Self-Tanning Products customer satisfaction ratings for some guidance.