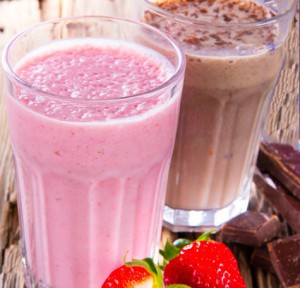 With summer fast approaching, many overweight Aussies will be spending big in an effort to get into shape. However, cheap supermarket shakes have been rated the nation's favourite in a bid to battle the bulge.
For the third year in a row, ALDI's Slim & Trim range of powdered shakes has topped Canstar Blue's customer satisfaction ratings for weight loss shakes, beating the likes of Tony Ferguson, Celebrity Slim and Rapid Loss.
Head of Canstar Blue, Megan Doyle, said consumers want to lose weight from their stomachs, not their hip pockets.
"Naturally consumers want tasty shakes that keep them feeling full-up and able to resist the temptation to snack between meals. But these shakes can be very expensive, so people are also conscious of getting value for money," she said.
"That's why ALDI's shakes are proving so popular – consumers think they're getting a good deal. Sticking to a diet can be challenging, but it doesn't have to be expensive."
The Canstar Blue ratings are based on a survey of more than 700 dieting Aussies who have used weight loss shakes within the last six months. Herbalife was the only brand to achieve top marks for effectiveness from consumers. It also rated highly for its range of different flavours, as did Celebrity Slim and Tony Ferguson.
Celebrity Slim and Optislim scored highest for their availability, but ALDI's Slim & Trim range was the only one to earn five-star ratings for taste, value for money and overall customer satisfaction.
An ALDI Australia spokesperson said: "At ALDI Australia, we value the importance of customer satisfaction, and are truly delighted to have won Canstar Blue's Most Satisfied Customers Award for our Slim & Trim meal replacement shakes for the third consecutive year."
What drives consumer satisfaction?
The survey found effectiveness (45%) to be the greater driver of customer satisfaction, followed by taste (26%) and value for money (22%).
"It doesn't matter how effective shakes are in keeping you feeling nice and full-up, if they're not pleasant to drink then consumers aren't going to stick with them," said Mrs Doyle. "Only half (50%) of survey respondents always buy the same brand of weight loss shakes, which suggest they're keen to try new flavours. Variety and taste are hugely important in keeping consumers on track for success."
Do weight loss shakes work?
Survey respondents spend an average of $57 a month on weight loss shakes, but not everyone is getting their money's worth. While three out of five respondents (60%) reported successful weight loss with shakes, more than a quarter (27%) found that instead of dropping kilos, they actually put on weight.
"About one in three (35%) survey respondents admitted to consuming shakes on top of eating three meals a day," said Mrs Doyle. "People tend to forget that these are meal replacement shakes and they drink them in addition to their regular diet. That's a sure-fire recipe for weight gain.
"Health professionals tend to be split over the long-term benefits of using weight loss shakes, but unless you follow the program correctly, you stand no chance of having success. You're just going to waste your money."