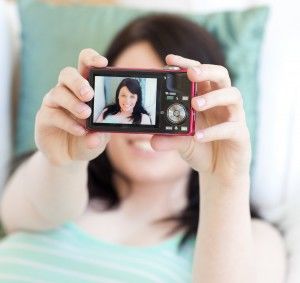 Do you take multiple selfies before being happy enough to post a picture online? And would you go to the extent of editing your own picture before showing it off to the world?
According to new research from beautyheaven, that's exactly what Aussies are doing. But with 65% of adults telling Canstar Blue they believe other people judge them based on their appearance, maybe we shouldn't be surprised?
The website found that over 60 per cent of women disagree with magazines "Photoshopping" or "airbrushing" pictures, yet more than half of survey respondents admitted to editing their own images before posting them on social media.
Two-thirds of readers also said they make their friends show them pictures before they go online, so they can approve them, and a similar number have untagged themselves in pictures they weren't happy with.
"It's no surprise, then, that women are turning to apps to edit their pictures until they're just about flawless," beautyheaven said on its website. "The thing is, while these apps can help, they can also take a turn for the worse – we had about 20 per cent of women admitting they sometimes look almost unrecognisable after editing."
The website also found that some women take as many as 10 selfies before settling for one they like.
"It seems there are double standards when it comes to photo editing," Carli Alman, Editor of beautyheaven told the Daily Mail. "Aussie women want it to stop in magazines but many are editing their own pics.
"They've seen celebs like Beyoncé and Miranda Kerr looking perfect in their social media snaps, knowing many of these images have been edited and now there is a copycat effect."