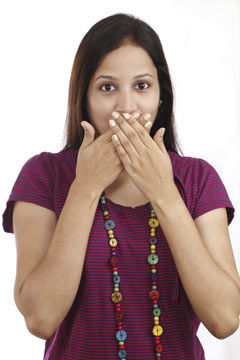 Is it worth suffering a little embarrassment for the sake of your health? Most would say 'absolutely', but some of the respondents to our recent survey disagree.
Nearly one in five of these Australians have been too embarrassed to talk to their pharmacist or doctor about certain medical conditions, even if that meant leaving them untreated. Alarmingly, this percentage increased when we asked 18-39 year olds (29%), while Baby Boomers / those aged 60+ were less concerned with embarrassing themselves (9%).
Here are the conditions respondents are least willing to speak to their pharmacist about:
sexual infections or dysfunction (43% refused to discuss with a pharmacist),
incontinence or flatulence (23%),
bad breath, (11%) and
fungal infections (9%).
N.B. With the application of the correct medication, many of the above conditions are curable.
"Generally sexuality and the possible difficulties that come with it are regarded in this culture as very private matters, and therefore there is a stigma associated with talking about it openly," said Désirée Spierings, Director of Sexual Health Australia.
"However, it is important to realise that all human beings are sexual beings and sexual dysfunctions and infections are very common. You are not alone! It is also crucial to get medical attention as soon as possible when experiencing sexual difficulties, as these issues can result in further problems if we do not attend to these immediately.
One in five avoid such embarrassment in the pharmacy by using the internet to self-diagnose their condition. According to Business Insider, the world will have access to proper medical self-diagnosing technology by the mid-2020s, so at least we won't have to rely on 'Google MD' forever.
When they're already at the pharmacy, 19% avoid buying certain 'embarrassing' products, and 30% do a quick check of the immediate area before asking for such a product.
When we looked at the agreement rates for all these statements, Generation Y respondents were always more likely to feel a little sheepish making certain pharmacy purchases or asking about certain conditions, especially when compared to their elders.
| | | |
| --- | --- | --- |
| Those who… | Generation Y (% agreed) | Baby Boomers (% agreed) |
| Avoid embarrassing product purchases. | 33% | 11% |
| Check before buying something embarrassing. | 46% | 18% |
| Self-diagnose to avoid feeling awkward at the pharmacy. | 37% | 10% |
Interestingly it's a two way street. In 2010, the Pharmacy Guild of Australia stated that their industry scores lower in mystery shopping ratings in the realm of reproductive health because chemist staff sometimes feels embarrassed discussing certain issues with customers.
While it can be a little humiliating to ask a complete stranger about an embarrassing medical condition, leaving it untreated is, at best, running the risk of having the condition persist unnecessarily. At worst, it can be outright dangerous to your health.
If you're uncomfortable speaking about it in an open plan room, a trip to the (more private) GP's office might be the best course of action for you.
When you're ready to take that trip to the pharmacy, head on over to our ratings to find out which one customers were most satisfied with.