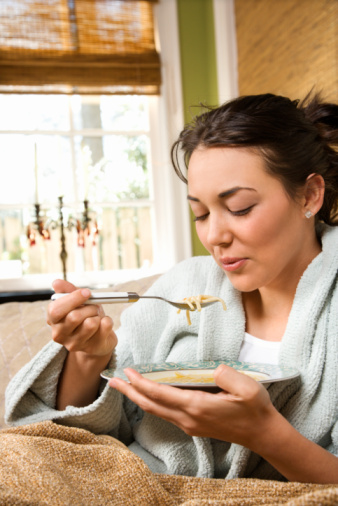 Looking for a healthier version of your favourite winter warmer comfort foods? Snuggle up with a bowl full of these recipes.
1. Chicken soup
You can add just about anything you want to this hearty chicken soup. A clean, warming taste. Cook the chicken, then keep it separate. In a different saucepan, cook mushrooms, onion, garlic, ginger, reduced-salt chicken stock, soy sauce, pepper, bok choy (or other types of cabbage) and mung beans. Add the chicken back in and simmer the lot. You can add cinnamon if your family has a sweet tooth.
2. Overnight oatmeal porridge
Chuck some oatmeal and your favourite fruit and honey toppings into the slow cooker and let it heat overnight. Then you'll have a warm, tasty way to start the day for the troops before a cold day of running around at winter soccer and netball.
3. Baked penne with capsicum, artichoke, and eggplant
Easy as can be – chuck everything together in a baking dish with some basil; bake it; then season with grated cheese and sliced tomatoes.
4. Fried rice
Fry some rice with your favourite steamed vegetables. Use a non-stick saucepan so you can cut out the oil that usually makes this dish less healthy. Add onions to ward off any wintertime cold or flu.
5. Meatloaf
A healthy meatloaf contains four times as many vegetables as meat, and is held together with an egg instead of butter. You could try using a carrot, an onion, a few potatoes, and some green beans, with 500 grams of extra-lean mince.
6. Vege frittata
Roughly slice an eggplant, zucchini, capsicum, and some garlic together with 6 eggs. Top with some grated cheese and bake it. Serve with a handful of cherry tomatoes for a tasty treat.
7. Hungarian mushroom soup
Use a Dutch oven. Combine mushrooms and onions and cook until very soft. Add paprika and dill to taste, then flour, cream of mushroom soup (or reduced-salt beef stock), milk and potatoes. Simmer uncovered until potatoes are tender.
8. Gypsy eggs
Fry up some sliced chorizo, then drain on a paper towel. (Chorizo is oily!) Cook some onion with garlic, tomatoes, chicken stock and paprika. Add the chorizo back in. Chuck in some peas or red kidney beans and simmer the lot until the mixture has thickened. Season with salt and pepper. Divide the mixture into several portion-sized oven-safe dishes and make a hole in the centre of each portion. Crack an egg into the hole. Bake in the oven for 10 minutes or until the egg has set to your satisfaction!
9. Spaghetti & meatballs with hidden vegetables
Perfect for getting kids to eat vegies without them knowing! Try grating carrot and zucchini into the meatball mix. The kids will love helping to roll the mixture into individual meatballs. Or grate the vegies straight into the saucepan with the sauce, or into the pot of boiling pasta – anywhere they can't see.
10. Beef & barley soup
Cook steak in pepper until brown all over, then remove it from the stove. Combine onion, celery and carrot in a separate saucepan and stir while cooking. Add tomato paste and thyme and cook until vegetables are browning. Add a cup of barley, some reduced-salt beef stock, and water, and simmer until barley is tender. Pop the beef back into the mix. Stir in vinegar to taste.