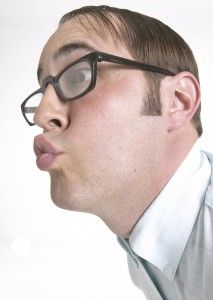 If you're planning on puckering up with someone special this International Kissing Day… you might need to take a deep breath and hold your nose.
Our survey shows that mouthwash is only considered the most essential bathroom item by 1% of Australians.
Canstar Blue surveyed more than 2,500 Aussies on their bathroom and grooming habits, including everything from how often people shower or bathe, to how much money they spend on a range of everyday essentials like bodywash, deodorant and razors, and who exactly they are trying to impress.
And some of the results may shock you.
With the approach of International Kissing Day 2014 on Sunday, July 6, the results suggest that minty fresh breath is not exactly of the utmost importance to most Aussies, with less than a third of survey respondents saying they couldn't do without toothpaste, while another 1% couldn't manage without dental floss.
Instead, some of the most craved bathroom items include toilet paper (31%), deodorant (17%) and shampoo (5%).
However, despite not worrying about stinky breath, three quarters of people said they shower or bathe every day of the week, with a further 17% claiming to do so twice a day. One in 20 only shower three times a week, 1% twice a week and an incredibly clean 1% said they shower three times a day or more.
When it comes to how much time we spend grooming in a day, 11 to 20 minutes (36%) was the most common answer, followed by 21 to 30 minutes (21%).
We spend more time washing our face (41%) than anything else, followed by our hair (23%), body (17%) and our poor old teeth (16%).
The survey also shows that we like to look after ourselves on the cheap, with a quarter of respondents spending less than $10 a month on bathroom products, followed by $11 to $20 (29%) and $21 to $40 (24%), while 1% claim to spend between $151 and $200.
And for whom do we spend so much time, effort and money trying to look good? Well, it turns out it's for ourselves. That's right, 85% of respondents said their main motivation was "to look after myself" compared to just 11% who were trying to impress their partner or a potential partner (6%). In fact, looking good for work (13%) is apparently more important than impressing a love interest. Lucky bosses.
Now, where's that mistletoe?