Australia may be famous for its outdoor lifestyle, but the 'lucky country' leads the world in another, more unenviable, statistic – skin cancer. Around 2,000 Aussies die as a result of skin cancer every year, but we can help reduce our chances of developing the disease by regularly using sunscreen.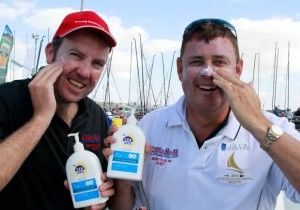 Some people might not use it as often as they should, but Aussies know their sunscreen well and this year rated SunSense number one for overall customer satisfaction.
Produced by Ego Pharmaceuticals, SunSense boasts an impressive range of products, so we caught up with Managing Director Alan Oppenheim to learn more about the company – and get some extra sun safety tips.
Q) We found effectiveness to be the greatest driver of satisfaction for consumers buying sunscreen. However, texture and consistency, plus ease of dispensing and absorption, were also found to be hugely important to people. Having scored favourably in all of these areas, could you tell us about the efforts that have gone into producing products that are not just effective but also easy to use?
SunSense was developed in 1988 and was the world's first cosmetically acceptable sunscreen offering broad spectrum UVA and UVB protection, using physical protection blockers and UV absorbers. Today, we remain committed to the science in SunSense and to our heritage and providing our customers with the highest quality sunscreen.
Our products are still made right here in Australia and continue to be researched and developed by our team of scientists with Australians and Australian conditions in mind. The sun in Australia is one of the harshest in the world so our first priority is providing the highest possible protection and to ensure that it is broad spectrum so it protects from both UVA & UVB.
We know that people will be less inclined to wear sunscreen if it's not cosmetically acceptable (for example if it feels heavy on the skin or doesn't absorb) so our team have put in a lot of time and effort to ensure we are using quality ingredients and the most up to date science so that our sunscreens feel beautiful on the skin and are enjoyable to use.
How often should you use sunscreen?
Q) Almost one in four young Australians told us they often sunbathe, with one in three admitting to getting regularly sun burnt. What can you tell us about how Aussies use your products and what advice can you offer to those who spend too much time in the sun without protection?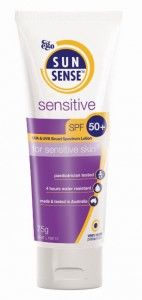 We strongly recommend using sunscreen daily throughout the whole year and minimising skin exposure to the sun by covering up and seeking shade. There are a lot of survey results, including this most recent Canstar Blue survey, that indicate Australians still aren't heeding the warning even though they are even more educated on the damage UV can cause to the skin than ever.
We work closely with organisations like the Skin and Cancer Foundation and the Australian Melanoma Research Foundation to continue to encourage Australians to make a change now and use sunscreen daily to help prevent skin cancers later in life.
Every change we do today to reduce UV getting to our skin will reduce the risk of sun damage later in life. It is never too late to reduce sun exposure.
Q) SunSense has an impressive range of products, but can you tell us which have particularly struck a chord with Australians? Has the way we like to use sunscreen changed and is this reflected in the types of products you produce?
One of the reasons our products are so well loved is we have a vast range of formulations to cover lots of different skin types (ranging from Junior products for young, delicate skin to a Clear Gel for acne prone skin and a Sensitive range for people with skin conditions). We have also developed products to suit different activities; for example SunSense Sport SPF 50+ is ideal for when exercising or at the beach as it is sand and sweat resistant and water resistant for up to 4 hours.
Our SunSense Face range has been very popular; they were the first range of sunscreen products specifically for the face. They are very light with an SPF 50+ and address the needs of different skin types including oily, normal and dry skin making them perfect for using daily and helping to prevent premature skin ageing.
SunSense was the first sunscreen to bring SPF 50+ to the Australian market in 2012 when the legislation was changed in Australia. We spent many years formulating the range ahead of the change so there was minimal difference in the feel between SPF 50+ and our SPF 30+ products.
We take our customer feedback very seriously, listening closely to ensure we are meeting their needs first and foremost.
What are the other benefits of sunscreen?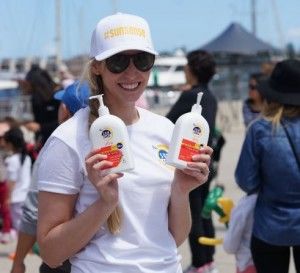 Q) We all know that sunscreen helps protect us from sun damage, but could you tell us about some of the other benefits of using sunscreen that people may not know about?
All of our SunSense sunscreens have been formulated with Vitamin B3 (Nicotinamide), which helps to improve skin texture and moisturises. Another product we have is SunSense Anti Ageing Face SPF 50+ which is formulated with AHA's to help reverse existing skin damage (including fine lines and wrinkles) whilst protecting from future damage.
It's also important to protect our lips with a broad spectrum lip balm like SunSense Lip Balm SPF 50+ as the lips don't produce melanin like the skin does and lack the outer layer of skin so are less protected.