When it comes to working out, nothing beats the exhilarating feeling of completing a good run. But how important is what you wear when you exercise? It seems as though, for many Australians, the answer is "very".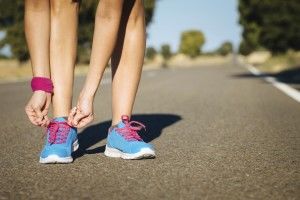 Almost three quarters of respondents to the Canstar Blue survey on sports footwear retailers said they feel more motivated to get up and exercise when they have good shoes and clothing to wear.
In an age when there are countless gadgets to help track your run and make it more fun, all you really need to get going is something good to put on your feet – something more than four in five of our survey respondents seem to agree with, as they consider buying good quality sports shoes an investment in their health.
Indeed there are so many health benefits to running, it really shouldn't matter what you look like while you do it, as long as you're comfortable. If you haven't experienced the feel-good factor and sense of accomplishment that comes with completing a good run, you might want to give it a try. If you're serious about your fitness, here are just a few questions you might want to ask yourself:
How do I get started?
Everyone knows how to run – even if you haven't done it since you were a kid. If you can put one foot in front of the other and settle into a comfortable pace, you're half-way there. Just start walking for a length of time that feels comfortable and start to introduce some short, one- or two-minute running intervals every so often. As time goes on, make the running intervals longer and more frequent.
Where should I run?
Running should be fun, so try to take in scenic routes and see it as an opportunity to explore new areas. Some runners like a constant change of scenery, while others prefer to stick to a well-trodden route in order to try and better their running times. Just remember, if you're running at night it's best to stay in well-lit areas, free of traffic.
Is it normal to feel pain while running?
It's normal to feel some slight discomfort when you're running, especially if you're just getting started. But real pain isn't normal and you should stop what you're doing if you're worried. Don't continue to run if you have to limp or alter your stride to manage the pain. Stop and rest for a few days and if the discomfort continues, you might want to consult your GP.
Half of our survey respondents said they will only wear running shoes that look good. But whatever you think you might look like while you're out exercising, concentrate on the health benefits of what you're doing rather than your appearance.
Running can help to build strong bones, strengthen muscles, improve cardiovascular fitness and help maintain a healthy weight. Above all it should make you feel good about yourself!