Started training for a marathon but found yourself running into some seriously sore hamstrings? Or maybe you've recently opened up your at-home gym and already want to cancel the membership! Don't give up just yet, because we've got some affordable workout recovery equipment to help you survive any workout!
Budget muscle recovery equipment
Here is a selection of awesome muscle recovery gear we've found online.
| | | |
| --- | --- | --- |
| Model | Retailer | Price |
| Kmart Therapy Neck and Back Massager | Kmart | $8 (RRP)* |
| ActPro Double Lacrosse Ball Massager | Amazon | $17.95 (RRP)* |
| Theraband Exercise Band 5.5m | AlphaSport | $28.20 (RRP)* |
| Cotton On Body Active Compression 7/8 Tights | Cotton On | $29.95 (RRP)* |
| Aptonia 500 Hard Massage Foam Roller | Decathlon | $35 (RRP)* |
| SIX30 Core Short Sleeve Compression Top | The Iconic | $49.99 (RRP)* |
| Aptonia 900 Vibrating Electronic Massage Foam Roller | Decathlon | $99 (RRP)* |
| Kogan Cordless Deep Muscle Massage Gun | Kogan | $219 (RRP)* |
Prices taken from respective retailers and accurate as of May 2020.
Kmart Therapy Neck and Back Massager – $8*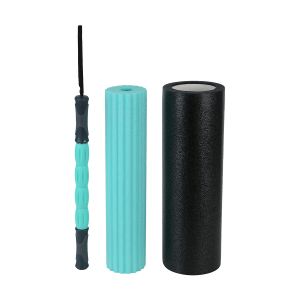 If you're feeling stiff from a hard workout or spending all day sitting at a desk, Kmart's Therapy Neck and Back Massager might be an affordable way to untie any knots. Sold under the brand name Anko, (Kmart's own-brand) this $8 budget recovery tool contains dimpled ballpoints to target back and shoulder muscles, while the metal rollerballs are said to massage the back of the neck.
Otherwise, Kmart has plenty of cheap and cheerful gym recovery equipment such as massage balls, massage sticks, massage rollers, foam rollers, therapy rollers and sports strapping tape. The entire range typically costs between $5 and $20.
ActPro Double Lacrosse Ball Massager – $17.95*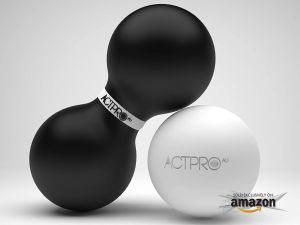 Standing out from the crowd with its peanut shape, the ActPro Double Lacrosse Ball Massager is exclusively available on Amazon. The online retailer claims the product is made from 100% natural rubber and provides a medium level of hardness. The ActPro roller is said to be ideal for office workers and those who regularly sit for long periods of time. It's also recommended you use the item for 10 minutes after any workout to reduce muscular pain and tension from your exercise.
Theraband Exercise Band 5.5m – $28.20*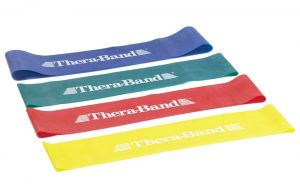 Resistance bands aren't just for toning and strengthening glutes, triceps and other muscles. Certain varieties, namely the loop band (or therapy band), can help you spring back into shape by improving mobility and flexibility. Theraband is one of the more well-known brands when it comes to therapy resistance bands. The latex exercise bands come in various colours, each representing a different level of resistance, ranging from light to super heavy.
Cotton On Body Active Compression 7/8 Tight – $29.95*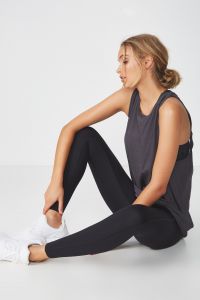 If you're no stranger to the ol' sweaty, post-squat waddle, compression tights such as the Cotton On Body Active Compression 7/8 might be the activewear you need. It's marketed as the ultimate staple for gym junkies, offering moisture wicking fabric treatment to help keep you cool and dry, as well as reflective details to keep you visible whenever you're exercising outside at night or in other low light conditions.
The compression tight is designed to reach just above ankle length and made with a skinny fit to ensure it firmly hugs your body. It also contains a wide stretch double layered high-rise waistband, with an internal waistband coin pocket also included. This is available in women's sizes ranging between XS and XL.
Aptonia 500 Hard Massage Foam Roller – $35*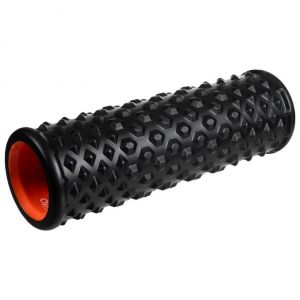 For post workout recovery, a foam roller is usually the go-to piece of equipment. The Aptonia 500 Hard Massage Foam Roller is one option, and can be used for self-massage straight after exercise or the next day. Like other foam rollers, this product uses both your bodyweight and the hard, structured foam to create a deep, intense massage to help relax muscles and support recovery.
It's recommended to spend at least five minutes on each muscle group. But keep in mind the Aptonia foam roller is only suitable for adults. If you've never used a massage roller before, you might see some bruising or briefly experience light pain at the start. In such cases, the Aptonia Soft Massage Foam Roller might be a better (and cheaper) alternative for beginners.
The Aptonia 900 Vibrating Electronic Massage Foam Roller is also another unique alternative, and uses bodyweight and vibrations for a deep, self-massage. This model retails for $99.
SIX30 Core Short Sleeve Compression Top – $49.99*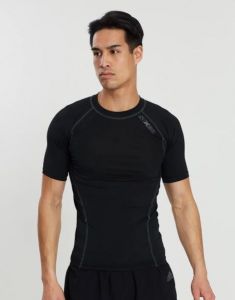 For the fellas out there, there are also plenty of affordable alternatives. One brand you might want to consider adding to your shopping cart is SIX30, which offers affordable compression clothing and activewear for men and women.
Pieces like the Core Short Sleeve Compression Top contain mesh underarm vents to improve airflow and flat-lock seams to help minimise chafing and irritation. It also contains compression technology, which is said to support circulation and recovery, as well as reduce muscle soreness and risk of injury. Similar to other sportswear, many items from SIX30 are made with moisture-wicking and antibacterial fabrics to keep you feeling cool, dry and fresh.
The SIX30 Core Short Sleeve Compression Top is unlined, designed with a breathable high-denier Lycra construction and generous stretch. It's suitable to use for sports, recovery and travel.
Aptonia 900 Vibrating Electronic Massage Foam Roller – $99*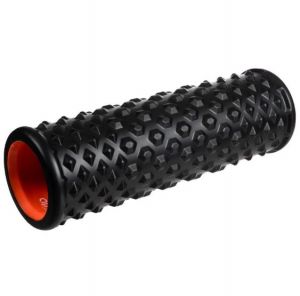 Aside from the usual benefits you get from self-myofascial release (SMR), especially reduced pain, vibrations can additionally improve circulation and increase blood flow. This is said to lead to a range of benefits, such as repairing muscles, helping alleviate pain and better circulating blood flow to certain areas. But this is more likely to aid recovery more effectively when used to treat general soreness or tightness from exercising, rather than provide long lasting relief for serious injuries. Keep in mind there's no proof vibrating foam rollers sink deeper into the muscles. These also tend to cost significantly more than regular foam rollers.
The Aptonia 900 Vibrating Electronic Massage Foam Roller is made with a hard, structured foam and provides several vibration levels to choose from. The product is also wireless and rechargeable. It's recommended you massage each area for at least three minutes.
Kogan Cordless Deep Muscle Massage Gun – $219*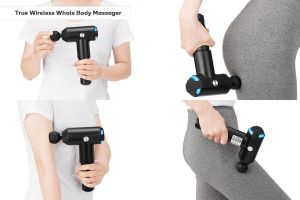 Massage guns certainly aren't cheap, especially with options from original trendsetters including Theragun and TimTam retailing for at least $375. But if you're keen to get on the bandwagon, Kogan has its own Cordless Deep Muscle Massage Gun for a more wallet-friendly price of a little over $200.
Just like any ordinary massage gun, this budget alternative is claimed to target muscle fatigue, pain and tension by providing rapid, repetitive pulses of concentrated pressure deep into your muscle tissue. It comes with three interchangeable massage heads and three intensity levels, and can work at a maximum of 3900rpm. The Kogan massage gun also has a charging time of four hours for three hours of runtime.

Types of workout recovery equipment
Foam rollers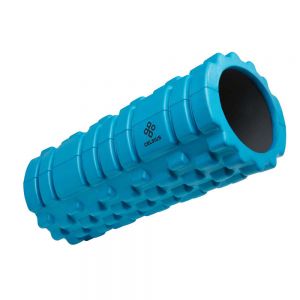 When we talk about workout recovery, the foam roller is among the most common tools used to wind down after a grueling exercise. It's also beginner friendly since it's something you can find pretty much anywhere, and often for a cheap price at stores like Kmart and Big W.
Foam rolling is a type of self-myofascial release used to assist with recovery and rehabilitation because it targets the fascia, the connective tissue supporting and protecting your muscles. It involves using your bodyweight and the structured foam (or in some cases vibration) to dig into the specific points of your body you want to target, which then activates stretch receptors that eventually relax the muscles that have been inflamed due to things like trauma, overuse and inactivity.
Studies have suggested various benefits to foam rolling, including:
Alleviating muscular fatigue and joint stress
Reducing muscle soreness
Supporting recovery
Improving muscular performance
Increasing range of motion
Massage sticks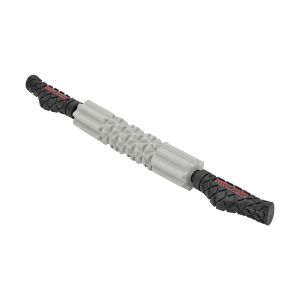 If you're looking to reduce muscle soreness in your calves or other smaller muscle groups, a massage stick might be a more suitable alternative to the foam roller. It provides many of the same benefits and uses a similar SMR technique, with the only real difference is that you're applying pressure on with your hands instead of your body weight.
Thankfully, similar to foam rollers, massage sticks are widely available and usually very affordable. While they come in a variety of sizes, they're obviously still pretty compact. So, you can store one in your gym bag and use it to take away lactic acid build up in your muscles after a workout, or keep a smaller massage stick at the office to help let go of the usual muscle tension and fatigue you might get after sitting at a desk all day.
Massage guns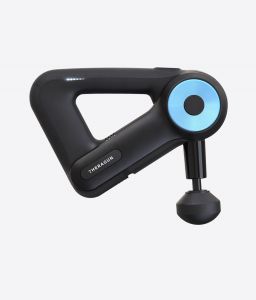 The massage gun has come a long way since it was first introduced to elite athletes and personal trainers for recovery not too long ago. Instead of applying pressure using your bodyweight or hands to roll out tight areas, for example, this is a type of SMR equipment which applies pressure through a burst of punching or thumping motions. Think of it like a mix between a heavyweight boxer and a power drill.
If you're looking for a workout recovery tool with a little more 'oomph', massage guns can function at a much more intense level compared to your average foam roller or personal massager. Many models have several customisable features, including multiple attachments and speed options.
Massage balls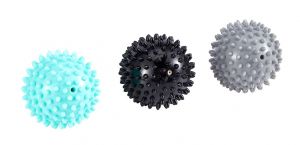 Lying on massage balls is another SMR technique. These come in a variety of forms and typically described as yoga balls, mobility balls, physical therapy balls or myofascial release balls. Some are slightly squishy or feature a spikey design (and weirdly resemble a pet's toy), while others are firm and smooth all over. Massage balls can also be hot or cold. Even a tennis ball fits the bill! But they all pretty much work the same.
If you have a bit of back pain, neck pain, feet pain or feel soreness and discomfort in other particular parts of your body, the right massage ball can help isolate and dig deep into a trigger point. Here are some key factors to consider when finding the best massage ball for you:
Size: the massage ball needs to match up with the specific body part that you want to target. The same mini massage ball might not be as effective when applied to hamstrings, buttocks, shoulders and other areas which require a larger ball.
Grip: a decent massage ball shouldn't slip out when you're using it. Tennis balls can be guilty of escaping your grip, but still work well, although lacrosse balls and products made from rubber tend to be more non-slip.
Hardness: different parts of your body will have a different reaction to various levels of hardness. The flexibility and condition of your tissues plays a big factor, with harder balls more suited to areas with healthier tissue.
Which recovery equipment is best?
The best tool will ultimately depend on the body part you want to target and the condition of your body. That's why you'll ideally have a few equipment pieces lying around, such as mini massage balls to ease neck pain and a foam roller to reduce joint stress. Goals such as improved performance and quick recovery are also worth thinking about. Whether you plan on using a recovery tool during your warm up is also worth considering.
If you're finding the idea of buying a bunch of equipment for your office or home gym a little overwhelming, you can always start making improvements in the bedroom. Since rest is a major part of recovery, finding the right mattress and pillow might make an even bigger impact to any neck pain, back pain or other issues that need release.
Picture credits: lunamarina /Shutterstock.com