SunSense holds our customer satisfaction award for sunscreen, so with summer on its way, we asked the company behind the brand, Ego Pharmaceuticals, for some sun safety advice.
This summer, SunSense is encouraging Australians to prepare for the heat better than ever with its Save The Day campaign, encouraging people to always have a bottle of sunscreen in their bag when they go out and about.
Ego Pharmaceuticals Scientific Affairs Manager, Dr Kerryn Greive, took the time to answer our questions.
Q) What's a good pre-sun exposure routine that will help ensure maximum protection?
A) To ensure maximum protection we need to ensure we are putting on enough sunscreen. If you apply several products to your face in the morning, ensure you apply the sunscreen last. For a face and neck application you will need 5ml, or a teaspoon of product.
If you keep your skin nice and hydrated with moisturisers such as QV Skin Lotion or QV Cream, it will help you to apply a nice even layer of sunscreen, which is important for uniform protection. If you want to simplify your morning routine, consider combination products such as QV Face Moisturising Day Cream SPF 30 or SunSunse Moisturising Face SPF 50+ that are both moisturising products and sunscreens.
Q) Should we consider a specific sun protection product designed for sensitive areas rather than just a general sunscreen for the whole body?
 A) A dedicated lip balm product for sun protection is a good idea. The lips differ from the rest of the skin on our body as they can't produce the protective melanin pigment.
However, if a sunscreen is designed well, it should be able to be used all over the body. SunSense Ultra or Sport are two sunscreens that have been designed to be used all over the body, face included. However dedicated facial sunscreens can be designed with additional benefits such as anti-aging ingredients, extra moisturising or a tinted finish. For example, SunSense Anti-ageing Face combines an SPF 50+ broad spectrum sun protection with the benefits of AHA's and vitamin B3 and E.
Q) Are there certain things we should look for when protecting the face, neck, lips and ears?
A) The most important thing to look for is the SPF. An SPF 50+ broad spectrum sunscreen is the first place to start. Scientific research has shown that wearing sunscreen can help protect from premature skin aging and skin cancer, so the better the protection we wear, the better our long term skin health will be. From there it is a matter of testing products to find the one that you find comfortable to wear regularly. Not all sunscreens are the same, so you may need to try a few to find your perfect match.
Once you have chosen your sunscreen you must wear it regularly. It will not do any good to spend the money on a good quality product and then leave it in the bathroom cabinet.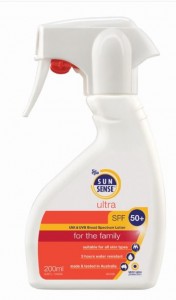 Q) What's the difference between UVA and UVB?
A) UVA rays are constantly present, no matter the season or the weather. UVA rays are mostly responsible for the signs of aging because they are able to penetrate much deeper into the surface of the skin, damaging the cells beneath. When you think of UVA rays, think sun spots, leathery skin and wrinkles.
UVB rays are the rays you can mostly blame when you get sunburnt. Unlike UVA rays, these rays aren't always the same strength year round – they're more prevalent in the summer months, however they are able to reflect off of water or snow, so it's always important to protect yourself year-round. When you think of UVB rays, think sun burn.
Both UVA and UVB are known to contribute to our skin cancer risk.
Q) What's the difference between chemical and physical sunscreens?
A) A great way to remember the difference is to consider mirrors and sponges. A chemical sunscreen active will absorb the UV radiation and stop it reaching the skin, i.e. the sponge. While a physical sunscreen will reflect the UV radiation away from the skin, i.e. the mirror. While sunscreens can use just physical or just chemical sunscreen actives, it is very common to find them being used together.
Q) What's a good post-sun routine to preserve skin condition?
A) Spending time in the sun invariably means that our skin is going to get dehydrated, even if we are not sunburnt. After time in the sun our skin needs rehydration using a quality moisturiser. A product such as SunSense Aftersun Crème Gel is ideal as it offers hydration in a light gel-type base while also providing added benefits from vitamin B3, grape seed polyphenols and vitamin C. If you prefer a fragrance free option, a light moisturiser such as QV Skin Lotion is the ideal product.
Q) Do you have any advice for treatment of mild sunburn?
A) Mild sunburn needs to be treated like any other burn. It is important to get the heat out of the skin first; a cool shower can be beneficial, as can a product such as SunSense Aftersun Cooling Spray. Once the skin has cooled down it should be kept hydrated with a quality moisturiser such as QV Skin Lotion. It's important to let the skin cool before applying a moisturiser; otherwise the moisturiser will trap the heat in the skin.
Once the heat has been removed, if you need a bit extra help to take the burn down, a gentle corticosteroid such as Dermaid Cream or Spray can work to reduce the redness and inflammation.
Q) What are you top sun protection tips? What SunSense products do you use?
A) A big hat, big sunglasses and a big bottle of sunscreen…. and then use them! I love SunSense Ultra for my body and SunSense Daily Face SPF 50+ for my face. I use the SunSense Lip Balm pretty much all the time; it's always in my hand bag. Its superior SPF 50+ makes it ideal for the whole family year round.