Losing weight is tough. Sure, it would be easy to eat nothing but celery sticks and protein powder – if we didn't have taste buds. So, can specially formulated weight loss soups be the answer to effective weight loss without missing out on tasty food?
It can be difficult to change your dietary habits, so pre-prepared weight loss products can make it easier to lose weight, while learning to make healthier choices. But many dieters also want to keep eating real food, instead of just relying on instant shakes and meal bars. A number of weight loss companies also offer instant soups, to replace your meal with… a meal.
Do weight loss soups live up to their promises of good health? Or are they exploiting the average citizen concerned about their health? Read on to learn the real deal about weight loss soups.
What is weight loss soup?
Commercial weight loss soups are instant soups, for calorie-controlled meals much like weight loss shakes and weight loss bars. They're meal replacement products which offer low energy content while still providing other vital nutrients. This is as opposed to regular instant, packet, or tinned soup, which aren't claimed to be weight loss products. The purpose of weight loss soup is to make it easier to restrict one's caloric intake so that the body uses its own stored energy reserves (fat) instead.
What's in weight loss soup?
Weight loss soups contain more or less the same kinds of ingredients you would expect in any instant soup, with some small differences. Ingredients and nutritional breakdown varies by brand and individual product, so we suggest looking into the ingredients lists and nutritional tables yourselves to make the best soup choice for you.
What kinds of weight loss soups are there?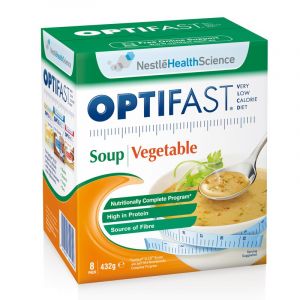 There are, broadly, two kinds of 'weight loss soups' – the instant or pre-made type, or recipes that call on users to cook up the soup themselves from scratch. Instant weight loss soups are produced by some weight loss food brands, such as Optifast and OptiSlim. The popular 'cabbage soup diet' and 'kickstart diet', among others, are diets based around home-made low-kilojoule soup.
Optifast VLCD Soups
Described as 'nutritionally complete', Optifast soups are high in protein and are a source of fibre. There are three flavours to choose from:
Optifast soups come in boxes of eight sachets. Each sachet (mixed with water) replaces one meal.
OptiSlim VLCD & OptiSlim Life Soups
 Containing all of your daily nutritional requirements (according to the brand) when consumed three times a day, OptiSlim VLCD soups are designed for rapid short-term weight loss. The OptiSlim Life range is designed for a less radical weight loss plan, with the soups (and shakes) designed to meet all of your daily nutrient requirements when consumed twice per day. Both soup varieties come in the following flavours:
Tomato
Creamy Chicken
Pumpkin
OptiSlim soups come in boxes of seven sachets. Each sachet (mixed with water) replaces one meal.
How much does weight loss soup cost?
As you'd expect from a specialty convenience food, instant soups designed for weight loss aren't cheap. Regular instant soups usually cost around a dollar per serve – with weight loss soups you're certainly paying for the purported weight loss benefit. That being said, $3 for a meal isn't too pricey.
| Brand | Price Per Serve |
| --- | --- |
| Optifast | $2.74 – $3.74 |
| OptiSlim VLCD | $2.64 – $2.70 |
| OptiSlim Life | $2.64 – $2.99 |
Does weight loss soup work?
It seems weight loss soups can work, but as with all heavily restrictive diets, you may find the weight loss doesn't last. As soon as you return to your regular eating habits, it's possible that the weight will come back. Much of the weight loss is also likely to be just water. It's inconvenient and difficult, but the most effective way to lose weight and keep it off is through permanent lifestyle changes in diet and exercise habits.
The problem with both weight loss soup and homemade soup diets is that these soups tend to be high in sodium, and low in complex carbohydrates, which means that they're not nutritionally complete to base your entire diet around them. Consuming mostly low-calorie soups beyond the short term could leave you feeling tired and sluggish, as well as build up way too much salt in your system.
Should I give weight loss soup a go?
There's nothing particularly wrong with weight loss soups, except that they arguably promise more than they could deliver – for a comparatively hefty price tag. They can also be bad for your health if they are used as your main source of nutrition for a significant amount of time. That said, it can be a convenient instant meal to keep on hand to avoid the trap of takeaway, or as an occasional meal replacement to cut a few calorie corners. Soups can be better at making you feel full compared to just eating the solid food component, as all of that added water is quite filling without adding any extra kilojoules. Just watch out for that salt content.
If you compare the nutritional information of weight loss soups and regular packet soups, in some instances you may find little difference between the two. Weight loss soups generally have higher protein content, but is that worth paying two to six times the price?
It's also generally better for you to eat whole foods rather than powdered versions – the less processed the food, (generally) the fewer nutrients have been lost along the way. If you've got both the time and inclination, looking for healthy, tasty soup recipes can be a better and more sustainable lifestyle change.
There are only a limited number of options of packaged soups, so you can enjoy a lot more variety by making your own. Soup can be easily stored frozen for months, so you can cook up a storm then not need to worry again until you've run out.
At the end of the day, there's no magic soup that will melt away your excess kilos. A healthy soup can, however, be a suitable substitute for more unhealthy meals. As with everything, consume in moderation for long-term, sustainable health.
Please note that the information provided in this article is not health advice. Always consult your doctor before taking on any new weight loss programs.