While some of us are in and out in a flash, others will take their time when they do their business and look for a bit of entertainment. Now, a book for the toilet shouldn't be an epic sage, so don't keep your Lord of the Rings collection in there!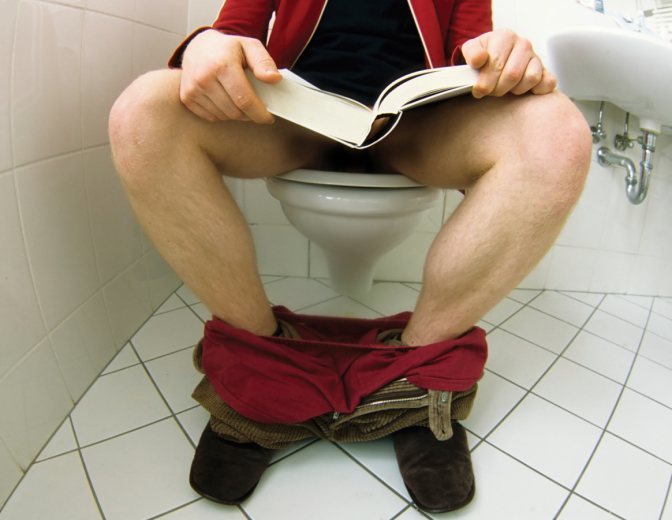 Here are a few short reads to occupy your time in the toilet.
The Prime Minister's Ironing Board
Adam McQueen
From the funny and ridiculous to downright scary, this book covers the best of the British national archives.
Author Adam McQueen – also famous for his popular book Private Eye: the first 50 years – has searched all through history to reveal some of the most unlikely national secrets. Well, they were secrets before now…
This book contains everything from housemaids 'on the wobble' to brainwashing Welsh terrorists; thank-you notes from Prisoner 13260/62 (Nelson Mandela) to surprising plans for royal funerals, and of course, Margaret Thatcher's Ironing Board.
I Could Chew on This: And other poems by dogs
Francesco Marciuliano
This one is most certainly for dog lovers; a collection of funny poems about the quirkiness and unbridled enthusiasm of our furry friends.
The brutally honest collection of tongue-in-cheek poems are the sequel to Francesco Marciuliano's best-selling I Could Pee on This: and other poems by cats.
Accompanied by photos of some canine friends, I Could Chew on This features gems such as Can You Smell That? I Dropped a Ball, and I Lose My Mind When You Leave the House.
The Grumpy Guide to Life
Grumpy Cat
The popular internet feline now has her (yes, her) own range of books for your toilet reading pleasure. Take a leaf out of Grumpy Cat's book and learn some valuable grumpy life lessons.
Grumpy Cat is the only figure to tell you the whole cranky truth in a world full of inspirational know-it-alls and quotable blowhards.
The Grumpy Guide to Life is a follow up from her New York Times best-selling debut Grumpy Cat: A Grumpy Book.
Into cats, or just grumpiness? Sit A Grumpy Guide to Life next to your toilet for a bit of light reading, and learn some uninspiring life lessons from a frowning cat.
The Burglar Caught by a Skeleton
Jeremy Clay
This book compiles some of the craziest headlines of Victorian England, courtesy of the British Library newspaper archives.
Re-live the scams, cons, farces, and tragedies of the nineteenth century – a time when society was a little backwards, life was short-lived, and laughing at other people's misfortune was a perfectly acceptable form of entertainment.
Read articles such as Holidaymaker Fights off African Lion in Welsh Hotel Room, Man Swallows Mouse and Dies, Wife Driven Mad by Husband Tickling Feet, Pallbearer Killed by Coffin in Graveyard, or Liberals Eat Dog.
The Burglar Caught by a Skeleton is sure to be an interesting toilet read.
Why Grizzly Bears Should Wear Underpants
Matthew Inman
More commonly known as The Oatmeal, comic artist Matthew Inman has put many of his popular works into a book for you to keep by your toilet. If reading isn't really your thing, and you prefer humorous comics, than any of Inman's books are for you.
In this fourth collection of hilarious comics, you'll be treated to anecdotes about life such as 7 Things You Really Don't Need to Take a Photo of, How I Feel About Buying Apps, What it Means When You Say Literally, and Why Captain Higgins is my Favourite Plastic Flatworm.
If you're one of those people who likes to read things in the right order, here are his many other books (in order) to add to your toilet reading collection:
5 Very Good Reasons to Punch a Dolphin in the Mouth
How to Tell if Your Cat is Plotting to Kill You
My Dog: The Paradox
Why Grizzly Bears Should Wear Underpants
The Terrible and Wonderful Reasons Why I Run Long Distances
10 Things Worth Knowing About Your Cat (Set for release in 2016)