Get ready to revamp your home as ALDI launches its new 'Style Your Room' Special Buys.
The supermarket giant is bringing three contemporary homeware collections to the middle aisle this Wednesday (September 5), one of which includes a velvet chair for $99.99.
Forget ALDI's famous grey rocking chair that sold out across some stores in minutes – ALDI's Diana Velvet Slipper Chair is the new 'rockin chair' on the block, boasted to be a "comfortable and stylish" chair, ideal for a "glamorous statement piece" to add to the living room or bedroom.
It features a padded curved back and padded seat, upholstered in what ALDI claims to be soft, premium grade velvet material. The chair is said to be low height and lightweight and features tapered solid birch wood legs and requires minimal assembly.
It comes with a one-year warranty and is available in either Periscope Grey or Sea Moss Green colour. Assembled size is 60cm x 70 cm x 73cm (WxDxH).
But it's going up against tough competition with Kmart's Pleated Velvet Chair, retailing for $69. However, only one colour is available – a bold Claret red.
Other brands can go up to as much as $600 for one single velvet chair on retail websites such as Matt Blatt and Brosa.
The only downside to ALDI's Special Buys is that you might need to get up early to secure your place at the front of the queue, with stocks limited.
The rush to the middle aisle has led to some rather unsavoury scenes in the past, but ALDI has been trialing a ticketing system at some stores to ensure first in are first served.
Back to the homewares on sale next week – expect almost everything you need to style your home from soft towels, bed sheets and monochrome throws to cushions, rugs and bed side tables.
Other ALDI 'Style Your Room' Special Buys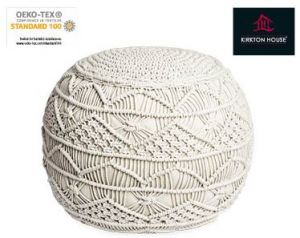 A new trend around the home design space is – ottomans. ALDI is offerings its Macramé Gumball (pictured) in four colour variations – Sea Moss, Gray Morn, Brown Sugar and True Navy. All are priced $39.99.
ALDI claims it to be a perfect stool, a foot rest, or even a side table. It features intricate macramé detail with a cotton cover and polystyrene fill. Its size is 50cm (Dia) x 35cm (H).
ALDI's quilt cover sets are starting from $59.99, while the cushions can be had for as little as $12.99. Other decorative pieces such as a Glazed Multi Wick Candle can be had for $9.99.