We all go to hardware stores with big plans and after spending plenty of time (and money) wondering around the aisles of goodies, we usually end up leaving with even more bright ideas.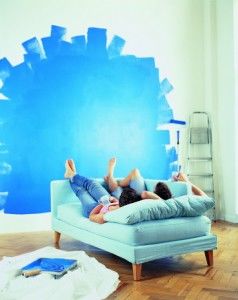 But once we get home, a dose of reality often puts a dampener on proceedings and work that started apace slowly grinds to a halt – either because we don't have the time, don't have the patience or simply don't have the know-how to make those DIY dreams come true.
A Canstar Blue survey of more than 2,500 hardware store shoppers found that 47% often start DIY projects at home. But of those, one in four regularly fails to finish them. More than half of survey respondents are happy to turn to the experts at their DIY store for advice, but unless you drag them home with you, you're ultimately on your own.
You may not be surprised to learn that more men than women try their hand at a bit of DIY but interestingly, it's the women who are more likely to throw in the towel, we found. And the younger you are, the more chance there is that you'll jack it in!
Considering 60% of adults tend to spend more than they expected to when they visit a hardware store, it seems a shame to 'shelve' those big plans – and potentially waste your money. So how do you avoid DIY disappointment?
Here are some beginners' tips for those people with a few stacks of MDF or tins of unopened paint lying around the house, courtesy of Bosch Senior DIY Brand Manager, Jessica Deuscher.
DIY tips for beginners
Begin with a small and simple project or renovation. This will allow you to become comfortable with using the power tools and using them on different materials.
Take pictures of what you are looking to renovate or fix-up and take them to the hardware store. This enables the sales assistant to understand exactly what you are talking about and recommend the correct power tools and materials to complete the job.
Don't be afraid to ask questions, especially when you visit the hardware store.
Do the maths, set the budget and work within it.
Invest in good tools and use the right power tool and accessories for the job. This is key to achieving a higher quality finish.
Start your project early in the day, to allow enough time to complete it.
Read the manufacturer's manual before getting started to ensure you understand how to operate the tools correctly and safely.
Practice on a piece of scrap material or small surface area, to avoid ruining the materials you have purchased.
Measure twice, cut once. Ensure to re-check measurements before cutting as this could potentially avoid a costly mistake.
Don't overlook the small details as these are often the factors that can detract from the overall quality of the finished project/renovation.
Remember health and safety in the work area to prevent short and long-term health problems.
Wear proper protective clothing such as dust masks, safety goggles and ear protection (if required).
Keep your work area clean. Ensure all cables, materials and tools are not lying around for someone to injure themselves.
Try to get the basics right the first time and don't rush completion time.
Have fun doing the project or renovation!
Ultimately, if you don't enjoy DIY, the chances are you won't stick to it – and there's no shame in that. Try setting yourself small, realistic expectations and see how you go. But remember, DIY isn't for everyone, so just give your local tradesman a call if you're not completely confident with what you're doing. You don't want to end up like the unlucky 14% of our survey respondents who have injured themselves.