OZtrail Tents Review & Guide
From overnight fishing trips to long beach getaways, OZtrail has a variety of outdoor essentials to suit your perfect wilderness adventure. The brand offers a range of tents in a variety of styles and colours. Some of these include dome tents, camper trailer tents, ensuite tents and personal shelters. There are also a range of other outdoor essentials such as cookware, coolers, tarps and flooring, air mattresses, sleeping bags, rucksacks, flashlights and portable fans.
Range of OZtrail Tents
Whether you're planning your own solo adventure, or getting ready for a big family holiday escape, OZtrail has a wide selection of tents to suit different types of activities. The range of tent collections includes:
Evolution Series Tents
Skygazer Series Tents
Eco Series Tents
Family Series Tents
Sportiva Series Tents
Fast Frame Series Tents
Lightweight Series Tents
Insect Screen & Personal Shelters
Ensuite Tents
Canvas Tents
Camper Trailer Tents
Evolution Series Tents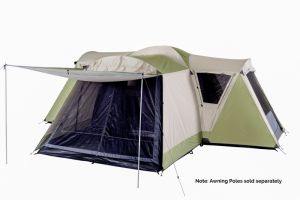 If you're looking for an all-rounder tent, OZtrail's Evolution Series features a wide selection of options to suit you. These range typically costs between $49.95 and $599.95.
For large families or groups of friends, the Oztrail Latitude tent is designed to fit 12 people and features total climate control to help you survive in the outdoors more comfortably. Said to be perfect for all seasons, this heavy duty makeshift shelter comes with an all-weather front screen sunroom with large awnings. There's also a rear door with side storage lockers and rear awning for extra shade protection.
The Tentsible Tabs with J-Hooks on tents like the OZtrail Tasman 3V, OZtrail Flinders 3P and the OZtrail Festival 2P also make the series ideal for beginners. These hooks can be easily attached to the poles of the tent for a quick set up.
Skygazer Series Tents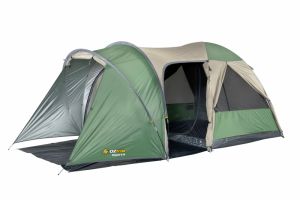 Camping is all about falling back in love with the outdoors. This is why OZtrail created a series featuring a window system that allows you to roll up the fly of the tent and soak up what nature has to offer.
If you're searching for something with extra space, the Skygazer 6XV is designed with an extra-long vestibule and PE ground sheet to create more room and head height for tall campers. There's even a detachable bedroom if you need a little privacy or want to accommodate extra guests. Valued at $359.95, this six-person tent is the most expensive item in the collection.
The Skygazer 4XV is available as a more affordable alternative, typically costing $199.95. This has the same features as the Skygazer 6XV and is longer, wider and offers 30% more height than some other tents in the series.
Eco Series Tents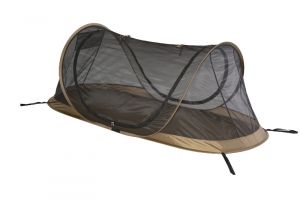 If you're heading to a summer festival or planning an overnight getaway, consider getting a tent from OZtrail's Eco Series. These typically range between $99.95 and $159.95.
This collection is designed to provide a variety of compact and lightweight tents to suit a range of weather conditions. Like many of the brand's other tents, these are made with ultra-fine No-See-Um mesh to keep bugs out while ensuring breathability. The tents are also designed with a UVtex Sun Tough fly fabric and a heavy duty PE floor, as well as heat taped seams to prevent water leaking through. The tri-hoop fibreglass pole system in products like the OZtrail Blitz 2 and OZtrail Wayfarer 2 is also said to help you achieve a quick set up and pack up.
Family Series Tents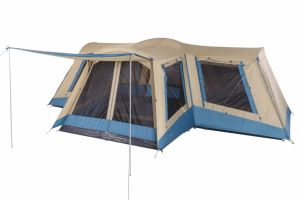 For fun family camping trips, Oztrail offers several tents everyone will love.
The Family six dome tent is ideal for couples and small families. It features a flexible design which can transform the tent into two bedrooms, or a living room and screen room. The inner tent is made with polyester fabric lining claimed to help you keep cool in humid weather and stay warm on cooler days.
Larger families can alternatively choose between the OZtrail Family 10 or OZtrail Family 12 tents. These offer oversized D-shaped doors for fairly easy access, as well as lower sills on the front and rear doors to prevent tripping. The tents also include large windows and Ultra-fine mesh panels to promote plenty of airflow while keeping creepy crawlies out.
Sportiva Series Tents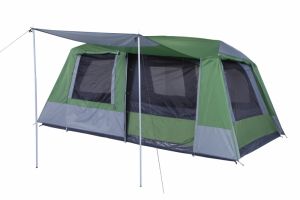 If you're dreaming of finding the perfect tent to help you get a peaceful night's sleep, OZtrail's Sportiva Series is hard to beat. Products like the OZtrail Sportiva 8 and OZtrail Sportiva 9 feature NightRoom technology, which is said to use a light-blocking dark coloured inner to reduce any ambient light that might keep you awake.
Whether you need a tent with four bedrooms or want a living room and two bedrooms, the layout of each tent can be changed to suit you. The collection is also claimed to mimic the lightweight and easy setup features of a dome tent with the size and structure of a cabin tent, so you can get the best of both worlds.
Fast Frame Series Tents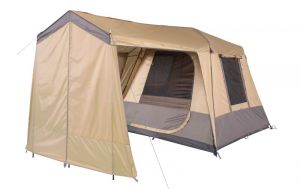 If you want a quick and easy solution to camping, the Fast Frame Series might be for you. This collection includes a wide range of fuss free tents for people who need to set up and pack up their tent every day. These tend to cost between $339.95 and $899.95.
The lowest priced option is the OZtrail Fast Frame Cruise 240, which is usually available for $339.95. The four-person tent includes large mesh walls and No-See-Um mesh windows to provide strong ventilation as well as offer protection from creepy crawlies. It also includes a front awning for extra shade. Larger tents like the OZtrail Fast Frame Tourer 420 Cabin, OZtrail Fast Frame Cruiser 450 Cabin and the OZtrail Fast Frame Tourer 450 Cabin are similarly available.
OZtrail also offer side wall kits and front wall kits you can add for privacy or want extra protection from strong winds.
Lightweight Series Tents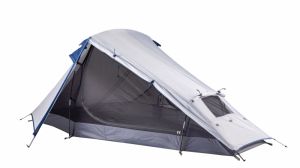 For anyone planning on backpacking around Australia, you might want to add OZtrail's Lightweight Series on your shopping list. These tents are designed to provide a quick set up and take up minimal space. Many of the options use Durallium 7001 Gold alloy poles, which is said to offer greater strength without the extra bulk and weight. The series also feature lightweight puncture-resistant bucket floors to add extra durability and strength.
The Ripstop Polyester Fly on items like the OZtrail Backpacker Hiking Tent is said to protect you from wind and rain, while the heat seams on many of the brand's tents are designed to prevent leakage and keep you dry. For colder climates, products such as the OZtrail Vertex 3P Hiking Tent contain a polyester inner to trap heat and keep you warm.
Insect Screen and Personal Shelters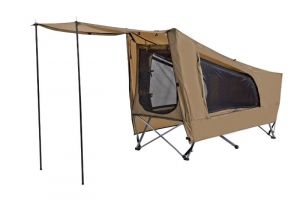 If you're travelling solo or just looking for something to call your own, OZtrail has a variety of personal shelters with breathable Ultra-fine No-See-Um mesh to provide ventilation and total insect protection.
Many of these tents are made with UVtex Sun Tough fabric, which is treated with water repellent protection to ensure your shelter can survive different types of weather. Options like the OZtrail Switch Pitch Bivy Tent offer top entry access, while products like the OZtrail Blitz 2 Mesh have a large D door. Other one-person tents, including the OZtrail Mozzie Dome I Fly, contain a door that can be rolled up or zipped close.
The large awning on tents like the OZtrail Easy Fold Stretcher – Single also offer ideal shelter solutions for fishing, camping and 4wding.  This range also includes items like the Mossie Dome IV, which contain the same the same features as the one-person tents but can sleep up to 4 people.
Ensuite Tents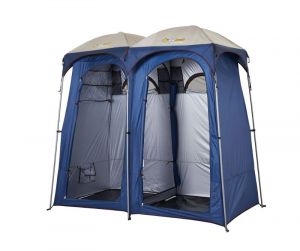 When it comes to showering or getting changed outdoors, OZtrail has a number of ensuite tents. These are made with UVtex Sun Tough fabric and contain a silver coating on the inner walls to ensure for total privacy. OZtrail's ensuite tents typically range between $74.95 and $269.95.
If you want to convert your ensuite tent into a bathroom, products like the OZtrail Ensuite Dome Tent and the OZtrail Pop Up Double Ensuite Tent contain a waterproof toilet paper pouch. The OZtrail Ensuite Duo Dome even comes with a separate shower and soilet, with a waterproof organiser also included to store your towels and clothes.
Canvas Tents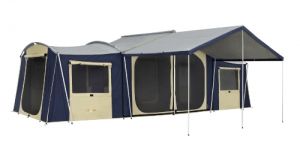 Whether you're a musician on tour or planning a family trip for 12 people, OZtrail has a range of canvas tents to possibly suit you. Ideal for all types of weather, this collection can range between $499.95 and $3,399.95. There are also a number of accessories, including a Canvas Commune Panel and a range of tourer tent side pole kits. These add-ons can cost between $74.95 and $159.95.
Most of OZtrail's canvas tents contain an extendable large front awning, which features the Draft-Block fastening system so you can add OZtrail's 3 in 1 sunroom and vinyl floor. These tents also include No-See-Um Mesh to add ventilation and total insect protection. There are also large side shade awnings that can be zipped close over the doors to add extra protection from the elements.
Valued at $3,399.95, the OZtrail Cabin Tent 15×16 is the brand's most expensive tent. This is said to sleep around 16 people and includes three rooms. There is even an option to transform your tent into a Commune Awning by linking your awning to another tent's awning to create double size sunroom. Other similarly spacious tents include the OZtrail Chateau 12 and the OZtrail Cabin Tent 12×15.
If you're looking for a tent for touring or 4wding, OZtrail's traditional canvas tents might be more ideal. Products like the OZtrail Tourer 9 Canvas Tent and the OZtrail Grand Tourer Canvas Tent feature a spring bar pole system to help you achieve a quick and easy setup. Most of these can accommodate six people, while larger items like the OZtrail Tourer 10 Plus Canvas Tent can sleep up around eight people. Alternatively, smaller tents like the OZtrail Tourer 9 Canvas Tent can sleep up to four people.
Camper Trailer Tents
If you're thinking about exploring what Australia has to offer, OZtrail has a variety of camper trailer tents designed with heavy-duty PVC vinyl floors to suit the Australian outdoors. Despite being one of the heavier options, OZtrail's camper trailer tents are designed to provide an easy on-person set up.
Valued at $2,599.95, the OZtrail Camper 6 Trailer Tent is the lowest priced option in the collection. It sleeps up to four people and is stated to fit on a 6"x4" trailer. Like many of the other options in the series, this can be transformed into a Commune Awning by connecting it to another camper trailer tent to create one large room. It features an insulcell triple layer insulated roof, which is claimed to keep you cool in the summer and warm in the winter. There is similarly ultra-fine No-See-Um mesh on all the doors and windows to keep insects out and provide ventilation. The OZtrail Camper 6 Trailer also has a special Bedroom Exclusive Package, which includes a vinyl wall mattress guard to keep your bed dry and minimise condensation. There's also a lantern loop so you can hang lights or other accessories to help you feel at home.
For the ultimate spacious camping experience, the OZtrail Ridgeline Latitude Camper Trailer Tent allows you to bring your family and friends for a big getaway. Suitable for 7'x4' or 8'x5' trailers, this $6,599.95 trailer tent has a split level and side-folding design. It is said to accommodate at least six people and provide even more space than Oztrail's Ridgeline Zenith Camper Trailer Tent. The tent even includes a gusseted bedroom window with adjustable poles so you can ensure your tent has the right amount of ventilation and shade in all seasons. It also includes a Sunroom with an expandable floor so you can spread out.
Is OZtrail the one outdoor brand for me?
From kayaks to caravan covers, OZtrail has a wide range of essentials to help you prepare for your great escape.
Many of the tents are designed to be fuss-free and quick to set up and pack up, making the brand especially ideal for beginners and anyone on tour. Some of these beginner-friendly options include the OZtrail Tasman 3V, Oztrail Wayfarer 2, OZtrail Grand Tourer Canvas Tent and the OZtrail Fast Frame Cruise 240. There are also plenty of compact and ultra-lightweight options like the OZtrail Razorback Hiking Tent and the OZtrail Hiker 3 for hikers, backpackers and trekkers.
Don't let bad weather ruin your mini getaway, with products like the OZtrail Skygazer 3 containing PosiBrace and DryGuard Plus to keep your tent secure during strong winds and rain. Many of the tents are also made with a waterproof DryFloor heavy duty PE bucket floor and taped seams to avoid leakage. There are also a range of options made with ultra-fine No-See-Um mesh to keep promote airflow and keep bugs out, no matter how small.
Since camping can be a tight squeeze, many of the products include a range of features to ensure ventilation to help you survive small spaces in different climates. OZtrail's range of camper trailer tents can also be customised to create larger sleeping areas for a more comfortable experience. Plus, there are a variety of ensuite tents available to ensure you get the privacy you need.
Still unsure about which tent is right for you? Head over to Canstar Blue's website to read a range of reviews on a variety of brands.