With working from home the new normal, many of us will be wondering if our home setup is the best we can do. While there's plenty that makes up the home setup, there's one focal piece that's essential to having a productive work space – the desk. But with so many brands, desk types and retailers to choose from, finding the best fit for your home office can prove to be a struggle. Read on to find out what you should be looking for when it comes to finding a new desk for your home in this Canstar Blue buying guide.
Types of desks
Here are the more common desk types to help you figure out which one fits your needs:
Computer desk
Executive desk
L-shaped desk
Writing desk
Standing desk
Computer desk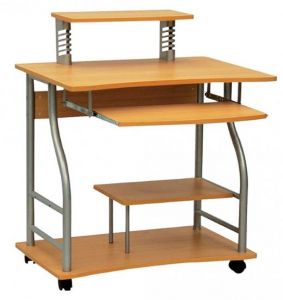 The computer desk is designed for a balanced level of efficiency and aesthetic, usually comprising of a pulley keyboard tray and basic surfaces to organise documents and workflow. With the standard computer desk generally being quite small, the design focuses its space for the computer – hence the name – although there's still space for other office essentials. One of the more affordable desks varieties available, the computer desk is a great addition to any home office that needs a simple yet aesthetic desk.

Executive desk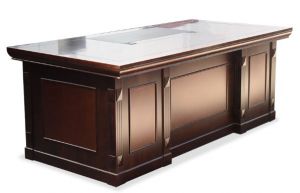 Executive desks look as good as they sound, with a flashy design that incorporates a wide workstation surface with drawers on either side. Typically seen as the most luxurious of all desks, the executive desk can be bought in traditional or modern designs, and is suited for people wanting a large desk with a splash of elegance. Being on the higher end of the price range, executive desks aren't for the faint of heart, or for those with a small office space, with most models coming in one piece, meaning that moving it may need a few executive decisions beforehand.
L-shaped desk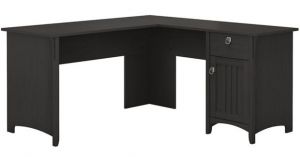 L-shaped desks are essentially the product of extending a standard desk into a left or right corner, resembling the letter 'L'. Ideal for maximising work space, L-shape desks allow you to spread out papers and hide those annoying cords. The L-shaped design enables the desk to be placed in most corners (provided you have the room), allowing for greater use of space. From compact to executive-sized options, this type of desk is suited to those looking for an extended workspace.
Writing desk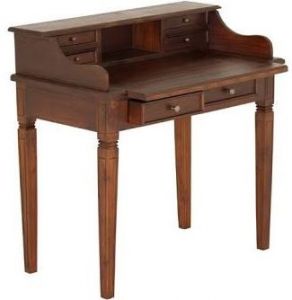 Writing desks are arguably the most basic when looking at different types of desks, as they're designed for traditional simplicity with no catering for electronics. Usually incorporating a top to hide written work and other documents, the writing desk offers an old form of privacy that isn't seen in contemporary times. With a tidy and aesthetic appeal, writing desks are perfect for basic tasks and maintaining privacy, as well as a great alternative for people looking for a more traditional feel.

Standing desk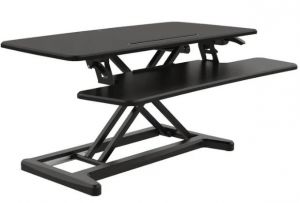 As the name suggest, a standing desk is a desk that allows you to stand up while working, which has become increasingly popular in workplaces over recent years. With some standing desks adjustable to tailor to different heights, these desks provide people with a healthier alternative when doing work, promoting better posture and breaking up the work day a bit more. While most workers will still understandably prefer a comfortable chair to sit on while working, the standing desks still pose as a great substitute for people looking to get a bit more active with their work.
Things to consider when buying a desk
With plenty of desk types out there, choosing which one you should put in your home and sit down at every day can prove to be a big ask. So, what should you consider before you put in a purchase order?
Style & Space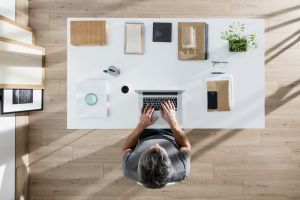 How much space you have to play with in your home office will be a major factor in what desk you purchase, as you want something that will physically fit in your room without cramping you for space, as well as still give you enough space to spread out your work.
Material & Style
Considering you'll likely be spending a good chunk of your day at your desk, going for a desk that is easy on the eye, as well as something with a sturdy construction will make sitting down for the day a lot easier.
Budget
As with most purchases, how much money you have to spend will influence what you walk out the door with. Those looking to stick to a budget may prefer a simple computer desk to get the job done, while those after something a bit pricier may have their heart set on an L-shape or executive desk.
Storage options
While you might be focussing on the top of the work desk, what's underneath is equally as important, with drawers helping you to not only hide your mess, but keep you organised. While you can always opt for a filing cabinet (or no organising system at all if you enjoy living on the edge) having a few drawers to keep your documents and office supplies in can prove a good point of difference when comparing desks.
Assembly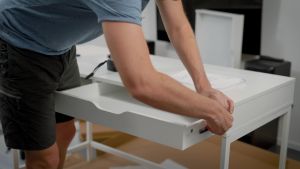 Not all desks are built equal, in that some will require you to build them yourself! While others will come pre-built – and often in one piece – you'll have to decide whether you can transport your desk through the rest of your house to your home office, or if it will be better to purchase a desk and assemble it yourself.
Where can I buy a desk?
With desks an essential for any home office, you can purchase them from a variety of stores and retailers, including furniture retailers such as Empire, IKEA, Amart and Fantastic Furniture, retailers such as Harvey Norman, Target, Myer, Officeworks and Kogan, with most retailers offering online purchasing and delivery so you don't even have to leave the house!

What desk should I buy?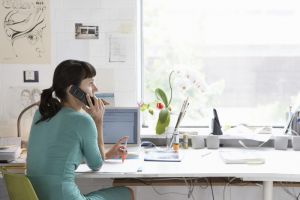 Choosing a desk that will help you stay on task, as well as keep you comfortable, can be a tough purchase to make. While your budget and/or room dimensions may make the decision for you, there's still plenty of styles, materials and models to choose from to help you set up your home office the way you like it. Those after something simple could opt for a computer desk, while those looking for something a bit fancier may be more suited to a standing or executive desk. If you're in the market for a new desk, check out our guide on office desk chairs to complete your home office.

Photo credits: Photographee.eu/shutterstock.com, Ruslan Satsiuk/shutterstock.com, Jack Frog/shutterstock.com, Usoltsev Kirill/shutterstock.com, sirtravelalot/shutterstock.com