Price trumps the environment when it comes to baby's bum
It seems that Australian parents are in two camps with regards to a key question about baby products. Which is more important: a nappy's price or its environmental impact?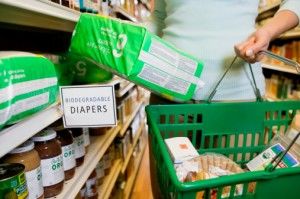 Two thirds of the respondents to our recent survey argue that disposable nappies are too expensive – quite an understandable sentiment, when you take into consideration one Canstar Blue writer's experience that his childcare centre changes nappies, as a rule, every two hours!
This may explain why a similar number of our respondents state plainly that the price of their baby products is more important than how environmentally friendly it is. This belief was more prominently held by Australian dads (70% agreed, compared with 63% of mums).
Danielle Townsend, editor at BabyCenter.com.au, said in 2012 that the "one-off and ongoing costs" of the first 12 months of a baby's life will cost parents close to $16,000. She estimates that disposable nappies comprise anywhere from $1,900 to $3,000 of this total.
Cloth nappies are all the rage with cost-conscious parents
Not all parents feel this way, however. Thirty-seven per cent of our respondents choose eco-friendly products for their child – regardless of how much they cost.
Specifically, 46% of respondents have tried reusable cloth nappies, with roughly three quarters of these mums and dads giving the nappies a shot because (a) they're said to be more eco-friendly and (b) less expensive. Of the respondents who have used a reusable cloth nappy, more than two in five end up using them more often than their disposable counterparts.
More than a quarter of respondents tried another eco-conscious option: disposable bamboo nappies. Bambooty, a manufacturer of these products, notes that a bamboo nappy uses "much less water than cotton and doesn't require any pesticides or chemicals, thereby reducing your environmental impact still further".
The aforementioned research reported by Danielle Townsend states that cloth nappies cost between $600 and $700 a year. At the very least, this is a saving of more than $1,000. However, the study doesn't take into account the cost to clean these nappies in terms of detergent, water usage and (perhaps most importantly) your patience.
Our verdict: Use both types of nappies
A smart choice would be to utilise both, as disposable nappies are a must for anyone using childcare or travelling, while cloth nappies make for a useful product for nights and weekends. You should consider taking a look at our latest ratings for disposable nappies.