Traditional taps are boring. But choosing a statement piece for your home means you run the risk of it becoming dated when trends inevitably change. However, the latest tap design by Rogerseller may well manage to avoid both problems.
You probably don't think much about your taps, until either you're looking to renovate or one falls off in your hand when you're trying to take a shower. Hopefully your taps aren't broken, merely ready to be upgraded. It can be tricky to decide where to find the sweet spot between form and function. Some designer bathroom trends look great, but are suddenly not so fun when it comes to actually using it, or even worse, cleaning it. One of the latest designs you may want to consider that seems to give good consideration for these concerns is the Eccentric by Rogerseller.
What is the Eccentric tap by Rogerseller?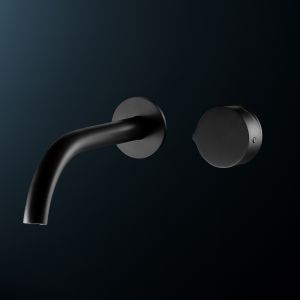 Eccentric is the latest tap mixer design by Rogerseller, a home appliance, fittings and furniture design company. The brand partners with Ram for manufacturing tapware products.
The Eccentric concept has a clean, minimalistic look which looks relatively simple to use and clean – no awkward prongs to clean, and only one plane of direction rather than trying to both rotate and pull outwards at the same time as necessary with some of the more common modern tap fittings.
It can be used for your sink or your shower, or really anywhere else where you want new tap fittings. There are both hob and wall mounted versions to choose from, as well as basin and bath spouts to match.
If you like Eccentric tapware by Rogerseller, you may also be interested in these other common renovation purchases:
What makes the Eccentric tapware stand out?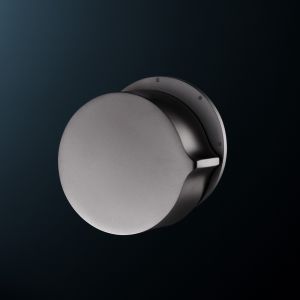 Instead of rotating on a straight axis (i.e. rotating only around the pivot point), the Eccentric design has an off-centre axis so that as it rotates it reveals the back plate, with its subtle markings for the hot and cold ends of the temperature range. While this doesn't necessarily mean anything unique in terms of function, it is a unique aesthetic. When the tap is off, it simply looks like a disc with a small fin. The fin gives a point of grip to push it around its axis, so you can turn it with soapy hands.
Unlike traditional mixers, hot water can only be turned on after cold water is already running, by turning the mixer past the cold mark and towards the hot mark. This is safer – less risk of accidentally burning yourself with surprisingly hot water – and more energy efficient, as it lends itself towards using less hot water.
Eccentric comes in a choice of four colours with images and prices advertised on its website: graphite, matte black, chrome, and rose copper. Rogerseller actually offers more options than these although you may need to visit a showroom or send an inquiry to see pictures. These include brushed chrome, satin chrome, brushed nickel, bright nickel, twilight, brushed gold and bright gold.
How much does the Eccentric tapware cost?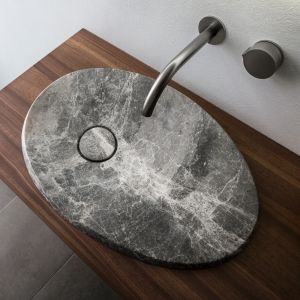 When looking into designer tapware like Eccentric, it's not just about choosing the most functional fitting. It's also about carefully selecting a particular style to add to your home. As such, you can expect to pay designer prices.
Wall & hob mixers
Rose copper $745
Black $615
Graphite $615
Chrome $495
Outlets
Rose copper $445
Black $365
Graphite $365
Chrome $295
Should I buy Eccentric tapware?
If you're looking for high-end, uniquely designed tapware, the Rogerseller Eccentric mixer may just hit all the right spots for you. But consider how it will look with your bathroom as it is now, or with your planned renovation. Style is subjective, so don't feel like you're off trend if it doesn't quite grab you. It's also a bit pricey – if you're on a tight budget it may be worth shopping around to decide which mixer satisfies your aesthetic demands without breaking the bank.