Camping is one of the most divisive activities there is: you either love it or you hate it. Some people can't stand being away from civilization for extended periods of time, but for others, camping is a way to escape from the business of everyday life and just relax. Living in nothing but the bush surrounding you definitely isn't for everyone, but if you do decide to do it, you need to make sure you're prepared.
Camping can end up being a miserable experience if you don't have the necessary equipment, and in extreme situations can end up being dangerous if you come unprepared for the conditions. To make sure this doesn't happen to you, we've prepared some advice on how you can find the best camping gear for you and your needs, and how you can use this to have the best camping trip you can.
What kind of camper are you?
Before we get into anything else, you need to consider what type of camper you are, and who you're camping with. This is important, as you don't want to get stuff that you don't need, or need stuff that you don't have.
This article will go into detail about the different types of equipment you'll need depending on your situation, and some of them may or not apply to you. For example, you won't need a luxurious six person tent if you're going with yourself or a few mates. This is just space and money that is being wasted. Likewise, if you're going camping with young children, you probably won't need to bother with big backpacks, as you're probably going to be staying in one place. So, before you read on, consider whether you're a beginner or experienced camper, and who you're going camping with, as this will pact your requirements.
The different types of camping
As well as different types of campers, there are different types of camping. Different people prefer to spend their nights camping in different ways, and the type you choose will determine how much or how little gear you need. The four different styles of camping are as follows.
Campsite camping
By far the most common form of camping, this form of camping is done at registered camping locations where you pay for your own space for a certain period of time. These camping locations are generally situated within walking distance of certain facilities like washrooms and toilets, and as a result are more popular among families with small children. As a downside to this convenience, it can be more expensive and generally more densely populated, so you won't be as alone with nature as you'd expect.
Festival camping
Most commonly done with music festivals, festival camping is very similar to campsite camping in that you pay for a certain space and have to leave after an allocated number of days. Due to the popularity of the event or festival you're at, festival camping can be extremely crowded and also requires you to adhere to much stricter rules. Each festival will have its own individual camping rules, so you should ensure that you check these before buying your equipment.
Wild camping
This is for the hardcore campers among you. Armed with only what you can carry in your backpack, wild campers need to look for lightweight gear and the bare essentials in order to not be weighted down. Wild camping in Australia is illegal in places which aren't marked camping locations due to safety reasons, so if you do want to wild camp, make sure you do it legally. You don't want to run into trouble and have no one there to help you, or find out that you're accidentally camping on somebody's property!
Glamping
The camping purists don't deem this to be a proper form of camping, but it is still a legitimate way to camp, even if you're only getting half the experience. Glamping is essentially luxurious camping, and the best Glamping spots come with amenities and even resort-style services. It is a good combination of escapism and luxurious living. If you want to know some good spots to camp in Australia these coming holidays, check out our article on great hidden campsites in Australia.
Tent, campervan or caravan?
Camping isn't just swags and Billy cans – there are three common methods that everyone but the most hardcore attempt. These three methods are tent camping, campervans and caravans.
Tent camping
We obviously don't need to explain what tents are, but we will explain that tents are a great way of truly connecting with the outside world while also being well sheltered. Tents come in all shapes and sizes, the most common being:
2 & 3 person tents
4 person tents
6 person tents
So depending on how many people you're going with, you'll need to consider whether to buy one large tent or multiple smaller tents. We'll discuss this in greater detail later on in this article. Since they are the flimsiest of the three options, there are some concerns that come with buying one. Primarily, they aren't the best protection against unwanted intruders, be it animals or human. You may find that your insurance won't cover anything that was taken from an unsecured tent.
The cheaper tents can also be susceptible to weather conditions, so if the weather report says three are going to be howling winds, it might be a good idea to postpone that trip or go with one of the next two options if you can.
Campervans vs Caravan
It is important to know the difference between the two vehicles.
| | |
| --- | --- |
| Campervan |                                           Caravan |
You can probably see the main difference between the two in these photos. Caravans are unpowered vehicles, and require being pulled by another vehicle. Campervans, however, have both the driving and living unit inside.
As a result of this, campervans have much less room than caravans. There is generally no divide between the cab and the living quarters, so there is less space available for anything other than the bare necessities of living, lik­­­­­­­­­e basic cooking, washing and sleeping facilities.
Caravans on the other hand can be more luxurious than campervans, due to being larger and not having to devote space to the driving quarters. However, this additional space comes with the drawback of being harder to maneuverer. Unless you are experienced at backing a car with something attached to it, a more compact campervan might be the best option.
The pros and cons of tents, campervans and caravans.
Tent
Campervan
Caravan
Advantages
·        By far the cheapest method

·        Allows you to experience nature

·        Very flexible with sizes and accommodation

·        Hassle free, doesn't require any set up

·        Cheaper than caravans

·        Less set-up, you can just drive in

·        You don't have to have any backing skills to use them

·        More spacey and luxurious than campervans

·        Can be used outside of camping

·        Much more flexible than a campervan

Disadvantages
·        Prone to adverse weather conditions

·        Lack of security

·        Tent campsites can be very crowded

·        Much less roomy than caravans

·        Can't really be used for anything when not camping

·        Cost more than a campervan

·        Require better driving skills

·        Are less sturdy than  campervans
When choosing which of these to buy, in addition to deciding how often you'll use them, you also need to consider where you'll be using them. If you're more into wild camping out in the bush, then a tent is really you're only option, as you're chosen location will probably be unreachable by vehicle.
Similarly, cold weather conditions really aren't suitable for tents, as they are more prone to the weather. If you've picked out a nice spot somewhere where it gets a bit chilly, then it would be wise to camp there in a campervan or caravan. If you do decide to go camping using a tent, then continue reading to learn more about the essential camping accessories that you'll need in order to have a safe and fun trip.
Essential camping accessories
To help you with planning on what to buy, you can find a camping gear checklist online and tick off what you think you will and won't need.  But there are some things that you should really consider mandatory and not optional if you want to have a good time and not a miserable one. There are 4 essential categories of camping gear that you need to make sure you've covered.
Sleeping bags and bedding

You won't have access to comfy beds or woolen dooners when outdoors, so your sleeping pattern might get disrupted. If you want to stay fresh while camping, then be sure to take the following five things with you:
A sleeping bag: You can go into any camping store and be overwhelmed by the choices of sleeping bags. But they are not all the same, and some are definitely better than others. Go camping Australia has a list of five things you can look for in a sleeping bag that make it good for all situations. The most important of these are the temperature rating, the fit and the materials it is made of.
The temperature rating of a sleeping bag is displayed on the cover and displays the lowest temperature that a bag could keep you warm in. For example, a temperature rating of five degrees means that it can keep you warm in any temperature that is greater than or equal to that level. You can also check the size and shape of the bag because a lot of sleeping bags nowadays are designed to accommodate certain body types, be they big or small, male or female. Sleeping bags can also come with a variety of different features such as neck muffs which hold the heat in the bag, or different kinds of zippers, which make them easier to open and close as you please.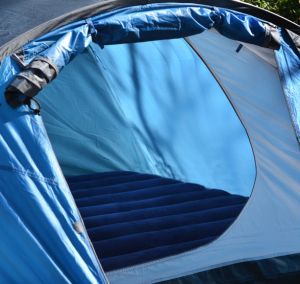 A sleeping mat or airbed: Unless you want to sleep on the hard ground, it's a good idea to also bring some kind of sleeping surface with you. In addition to keeping you comfortable, they also block the transfer of heat from you to the ground and keep you warm. These surfaces can either be mats or airbeds. When it comes to choosing a mat, their thickness and length are the most important aspects. You should select the size and weight according to your body and at the very least your hips and shoulders should be on the mat. A thicker mat will be more comfortable, but you will have to compromise with the extra weight as a result. In terms of airbeds, the most common and convenient are self-inflating mattresses. They are self-inflating because they don't require a pump to inflate. Instead, they have an air tight valve that is closed when rolled up. When you need the mattress, the valve opens and the foam inside expands to suck in air, and it closes automatically once it is full. When buying a self-inflating mattress, you also need to consider the length and width in addition to the R-value, which is the manufacturer's insulation rating.
Ear plugs: OK, so this one really isn't essential per say, but camping can be a very tight experience in terms of space, particularly while you sleep. If you've ever experienced loud snoring from a tent-mate, you'll know it can be hell on earth. There is no escape from it when you're in the woods, so a good pair of ear-plugs can stop you from going crazy.
Shelter
Camping wouldn't be much fun at all without the tent, so getting the right one is probably the most important thing. Any tent you buy should have enough space for you and your camping accomplices, be easy to set up, and it should also keep you protected from the weather.
As we said before, the most common tent purchases are 2, 4 and 6 people tents. Each of these tents can fit one more person than the size suggests, but this would be an uncomfortable experience, and it would be wise to stick to what the number says. Think of what space you will need in that tent, and what you want stored in the tent with you. If you're going to be bunking with tall people, you will probably need a larger capacity tent, as tall people tend to curl up into balls to sleep.
Winter tents in Australia are uncommon due to the mild conditions we face, but if you are thinking of camping somewhere cold, then you will need to look for a specialised tent that is not made of lightweight materials. Three-season tents can survive most conditions, as long as they are not overly harsh.
You also need to consider some of the following things when buying a tent:
The height of the tent: The ideal tent is one that you can stand straight in, or at least don't have to crouch too low.
Instructions: Most decent-quality tents come with an instruction manual, which will make your life much easier if you've never set one up before. If you have, it still can't hurt to have instructions, since each tent is different.
Windows and doors: Good ventilation is essential in a tent, and a window can let in a good breeze during the day and be closed during the night. Tents can get stuffy without proper ventilation, but you also don't want your window to be too big. Meanwhile the door should be large enough for you to walk through comfortably. Ideally, you want a tent with doors on either side that you can zip up or down to let air in on a certain side. If you want to be a show off, then some tent doors can be turned into fancy entrances.
Power cord access and hooks: If you want to go clamping, or just want to charge your phone, then some tents come with small zips in the inner tent wall that allows a cord to pass through. Alternatively, you can get a tent with a hook on the ceiling where you can hang a lantern or torch, if you want to light up your tent in a more environmentally friendly way.
The best way to find out which type of tent you want before buying is to look for tents that are already set-up in store. Many of the larger chains do this, and allow you to look inside and around the exterior of the tent.
Camping chairs
Camping chairs are the ultimate tool for relaxation. Whether it's for sitting back with a beer or telling spooky stories around the camp fire, camping chairs will come in handy. There are dozens of different brands available on the market here in Australia, but some of them are not as good as the others. To find the best camping chair, consider the following features:
Load capacity: The average load capacity for camping chairs in Australia is 104 kilos, but there are plenty of options that go higher than this. If you're not sure if the chair you've set your sights on is too small, play it safe and get one that is slightly too big. This means that you'll have plenty of extra room to relax.
Cup holders: This is fairly self-explanatory. Who doesn't like to sit in a chair and have a beer, or another kind of drink? No one! It is easy to determine if a chair has a cup holder. An added bonus is a chair that has a storage pocket on the side!
Comfort: Most camping chairs are constructed out of steel, which gives them durability at the expense of some comfort in the long-run. If you want a chair that you can relax in while watching the sun set, then look for one that has a reclining feature, or bring a couple of pillows along.
A carrying bag: Given the large number of things you'll be bringing with you, the last thing you want is another bulky accessory being hard to carry. To make unpacking a little easier, get a chair that has a carrying bag that you can sling over your shoulder. Unfortunately, some manufacturers are cheap when it comes to making carry bags, and they can tear after a while. So check with an expert what the bag is made of.
Stain and moisture resistance: If it rains or you spill things on it, stain and moisture resistance can prolong the life-span of your camping chair.
Backpacks
Backpacks are only really an issue if you are more into wild camping, and are going to be spending some of your time hiking or bushwalking. If this applies to you, then it is crucial that you find a backpack that can fit all of the essential equipment you need to survive. According to outdoor site rei.com, you need to consider which of the following sizes applies to the trip you want to take.
1-3 nights – 30-50 litres
3-5 nights – 50-80 litres
5+ nights – 70 litres or larger
In addition to their capacity, you can buy backpacks that are a more suitable fit for your back. The right fit is one that is appropriate for your torso length and has a comfortably snug grip on your hips. A lot of well-known backpack providers have fit-specialists in store, but you can also determine the right one yourself by taking your own measurements.
There are male, female and child specific backpacks out there due to the difference in frame that each have. Since the majority of the backpack's weight is supported by your hips, it is particularly important to find a backpack that is suited to yours. Fancier backpacks now come with load lifter straps to help you with your posture, so if you want to avoid back pains over long distances, check the packaging or consult an advisor in store about the different features and measurements the backpack has before buying.
Safety equipment
Given that you could be a fair distance from emergency services, it is crucial that you come prepared in the case of an emergency. According to the Queensland Government website, these are just some of the most important things you need to ensure to take with you:
Plenty of drinking water and water purifying equipment
Cooking utensils and non-perishable food
Sturdy and enclosed shoes or boots
Wet weather gear and a waterproof tent
Lots and lots of insect repellent
Lots and lots of sunscreen
A torch and multiple spare batteries
A map and a compass in case you get lost
These are all very important things to remember, but the most important of all is a first aid kit. Being out in the bush can lead to many health issues arising, and these can be life-threating in the worst case scenario. A common first aid kit can prevent these types of things from happening.
Many different camping specialists sell first aid kits, which can cost as little as $20, and include gauze, bandages, alcohol pads, safety pins, scissors and instruction manuals. Although unlikely, the last thing you want is to be caught in a perilous situation with the means to help yourself or the ones with you.  So make sure that you have one with you before you set out.
There are many more accessories and gadgets that you can bring with you that it is impossible to mention them all here without becoming a camping website. So we'll leave all the minor bits to you to do on your own. You can visit any camping website and browse their selections.
Where can you buy this gear from?
If you know what you want to buy for your trip, then you have plenty of options to buy from as an Australian. There are a number of small businesses out there for you to find, but the most well-known and proven brands are:
Australians are expert campers, so if you're not sure about which product is right for you, ask someone. The people who work for these stores are all outdoor enthusiasts – and the more you camp, the fewer questions you'll have to ask. Happy camping!