If you've been surfing the web for the latest and greatest laptop, tablet or smartphone, you might just want to ask your grandparents for their advice.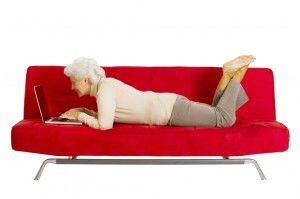 The Canstar Blue survey of online department store shoppers shows that Baby Boomers are more likely to buy their new electronic gadgets via the internet than their children or even their grandchildren.
In fact, the research shows that electronics have become the most common online purchase of choice for Boomers, ahead of things like books, clothes, alcohol or even food.
A massive 65% of respondents aged over 58 said they go online to buy their latest computer, gadget or other electronic appliance, compared to less than half of Gen Y and 54% of Gen X.
Clothing, shoes or fashion accessories are the most common type of online purchase for Gen Y (76%) and Gen X (70%).
Australia's online retail spending increased to $15.25 billion for the year to April 2014, up by 6.4%, according to the National Australia Bank's (NAB) Online Retail Sales Index. It now represents about 6.6% of traditional retail spending. Domestic retailers continue to control the largest share of online sales, at around 74%.
The convenience of buying online is the biggest attraction to Boomers, closely followed by the potential for finding a bargain and the availability of some hard-to-find products.
Our research also showed that Boomers are more likely than Gen Y to shop online every week, but Gen X are the most addicted when it comes to splashing the cash via the internet.
The survey, of shoppers who have made a purchase from an Australian online department store in the last 12 months, reveals that a quarter of Boomers no longer feel the need to visit a "bricks and mortar" store, compared to 35% of Gen Y and 33% of Gen X.
And while 56% of Boomers say they have spent more online this year than in 2013, that number rises to 61% for Gen Y and 65% for Gen X.
Items purchased online (OVERALL TOTAL)
Clothing, shoes or fashion accessories 68%
Electronics (e.g. appliances, computers, gadgets, etc.) 58%
Books or e-books 56%
Homewares 51%
Media (e.g. games, movies, music, etc.) 46%
Health products and cosmetics 45%
Toys 34%
Alcohol 30%
Food (e.g. groceries) 29%
Other 5%