Whether it's lighting up the patio or shining a spotlight on that feature wall, there's a good chance you've encountered halogen lamps before. Halogen light bulbs were once the popular choice in homes, commonly used as downlights in large or outdoor spaces, as well as directing attention to certain spaces. So, are halogen light globes all the rage, or are there better alternatives out there? You be the judge.
What is a halogen light bulb and how do they work?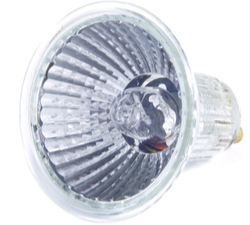 Halogen light bulbs or lamps are similar to incandescent bulbs in terms of light output, shape and size. This type of globe produces a moderate to high output of light with a reasonable lifespan. Most halogen lamps are used in directional lights, under-cabinet lighting as well as automotive headlights.
Unlike other types of light bulbs, most halogen lamps contain halogen gas inside the bulb, which is reinforced by a stronger casing of outer glass, usually made out of fused quartz or silica glass to withstand a higher pressure of heat. To put temperatures into perspective, some halogen light bulbs can reach up to 500° Celsius. There are numerous types of halogen bulbs, all of which have individual sizes and lumen output to fit an array of lighting fixtures.
How much do halogen lights cost?
As a general guide, halogen light bulbs can cost anywhere between $2 and $30, with some models even creeping into the hundreds. It will depend on the size, shape and wattage (otherwise known as lumen output). Another important factor when buying suitable light globes for your home are the overall running costs.
To get a full breakdown of how halogen light bulbs stack up against other globes, read our comprehensive guide on household lighting costs.
Halogen vs LED
According to energyrating.gov.au, households will save $253 a year in replacement and running costs when switching from halogen lamps to LEDs. Below is a table comparing each bulb based on energy efficiency, lifespan and more.
| Halogen light bulbs | LED light bulbs |
| --- | --- |
| 1,000 to 2,000 hours lifespan | 15,000 to 30,000 hours lifespan |
| Purchase cost between $2 and $30 per bulb | Purchase cost between $5 and $20 per bulb |
| Costs approx. $25 in running costs per quarter | Costs approx. $7 in running costs per quarter |
| Lower energy efficiency, only 10% of electricity used produces light | Energy efficient, less output for same amount of light |
This information is based on a 42-watt halogen bulb and a 12-watt LED bulb, with a flat electricity usage rate of 27c/kWh.
Types of Halogen Bulbs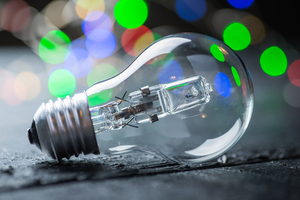 There are many types of halogen bulbs available to purchase, including different shapes, sizes and lumens. Some halogen bulbs come triangular in shape, while others are traditionally pear-shaped or linear for larger rectangular light fittings. Additionally, the output of standard household halogen lamps can vary between 12V to 240V.
When choosing a suitable halogen bulb, you'll need to know the following aspects:
Brand: Philips, Eiko, Brilliant, Arlec, etc
Base: Bayonet, screw, bi-pin, etc
Shape: Angled, downlights, decorative, specialty, etc
Features: Colour, dimmable, smart lighting, etc
If you're looking to simply replace a specific bulb, it's easiest to take in the old bulb to a homewares store.
How bright are halogen lights?
Though not as energy efficient as LEDs or compact fluorescent lamps (CFLs), halogen light bulbs can produce a fairly high amount of light, depending on their output. Halogen lamps are brighter than incandescent bulbs, but are still no match for LEDs. It's important to remember that 90 per cent of electricity used to power a halogen bulb is wasted on heat, with only 10 per cent used for actual lighting.
Are halogen light bulbs safe?
All bulbs have to meet mandatory safety requirements and registered on the Australian Government National Equipment Registration System. Technically, halogen bulbs should all come with a safety warranty from their manufacturer, however due to their excessive heat, they could still prove to be a safety hazard.
Halogen lamps are scheduled to be removed from Australian shelves from September 2020, however this phase-out is primarily due to their lack of energy efficiency. Sustainability Victoria claims $161 million in yearly energy bills could be saved from Aussie households switching from 12V halogen downlights to low energy bulbs.

Image credits: gdvcorn/Shutterstock.com, Jouke van Keulen/Shutterstock.com, Room 76/Shutterstock.com