We Aussies are famous for our outdoorsy lifestyle, but the results of a recent Canstar Blue survey on lawn mowers show that many of us are now struggling to find the time to properly maintain our most treasured living space – the garden.
The Australian climate is the envy of much of the world but it seems as though, for young Aussies in particular, spending time in the garden has become more of a chore than a leisurely activity. In fact the contrast in attitudes between young and old is striking.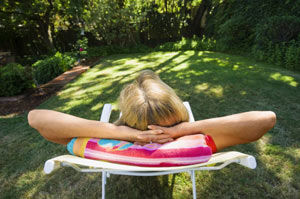 In a survey of more than 500 Aussies who have purchased a lawn mower in the last three years, more than half Generation Y respondents said they can't find the time to maintain their gardens. That compares to one in five Baby Boomers and one in two from Gen X.
Young Aussies are also the most likely to hire someone to mow their lawn for them (30%), whereas Gen X (23%) and Boomers (7%) seem more inclined to get out and do it themselves.
Gen Y's lawn mowing apathy is good news for small businesses across the country, however, with the gardening services industry in Australia booming, according to IBIS World. With over 20,000 Aussies employed in more than 12,000 businesses, plenty of people are only too happy to cut your grass if you don't want to.
Hiring a professional to do the work for you is likely to cost you more in the long run than buying a lawn mower yourself and getting your own hands dirty, but millions of Aussies are clearly favouring this option.
IBIS World reports: "The industry's strong demand fundamentals have underlined steady growth despite a mixed economic climate in the past five years. The industry's main customer base is households, headed by high income earners that lack time or energy to care for their own gardens, as well as groups physically unable to garden, such as the elderly.
"Demographic shifts have worked in the industry's favour as higher income levels across the board and a steadily ageing population have boosted demand for this discretionary service."
Perhaps it's a little unfair to compare the amount of free time available for Gen Y and Boomers to maintain their gardens but you can't help suspect some young Aussies are finding alternative, more modern, activities to fill their time. Is there an app for mowing the lawn yet?
This is probably a good time to point out that 40% of our Gen Y respondents admitted to letting their grass grow so long that their lawn mower couldn't handle it, while roughly the same number said they envy others who don't have a garden to look after. And Gen X weren't far behind when it comes to letting their gardens grow out of control.
Of those young Aussies who do find the time and effort to mow their own lawn, about a third said they secretly enjoy doing it but won't admit it to their partner.
Interestingly, two in five Gen Y respondents were happy to declare themselves an "expert" at mowing the lawn. But with 31% saying they have seriously injured themselves (or have come close to doing so) while using a lawn mower, you might want to take that with a pinch of soil!