Looking to sell your furniture but don't want the stress of finding a buyer? Well, it's good news for IKEA shoppers.
Mid last year IKEA began its 'take-back' service trial, allowing Australian consumers to sell their unwanted furniture back to the homeware giant.
The program was trialled at Sydney's Tempe store over a 12-month period and with its success, it will now be available in all 10 sites across the country.
This initiative comes as part of the wastage problem plaguing a sustainable conscious community with IKEA vowing to "do something about" the 48,000 tonnes of general furniture dumped each year in the greater Sydney area alone.
By 2030, IKEA aims to be 100 per cent circular and climate positive along with other projects, including the take-back of mattresses, batteries and light bulbs.
During the trial, 1,600 pieces of unwanted furniture were sold back to IKEA's Tempe store, which equated to about 700 cubic metres of avoided landfill.
Tempe sales manager David Hawthorn told news.com.au: "We're the only large furniture retailer that's doing this. It's the right thing to do.
"To see this service now being offered to IKEA customers nationally, and maybe one day all around the world, is incredible and beyond what I could have imagined.
"I can see this will become available across the 346 stores we have globally because we've tried to make it as simple as possible for customers."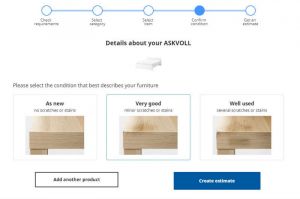 How does it work?
Those with unwanted furniture from the Swedish giant can go online and get a quote. One form must be filled out per item of furniture with additional photos also required, allowing the IKEA team to assess the condition of the item.
Once qualified for 'take-back', customers will be able to obtain an estimate of their furniture's buy-back value. The consumer will then have to deliver the item fully assembled to their local store where an IKEA co-worker will assess the item in person and provide a final price.
After this process, the customer will receive a refund card for the item and the furniture will go on to be sold in IKEA's 'AS-IS' department for the same price it was bought from the consumer.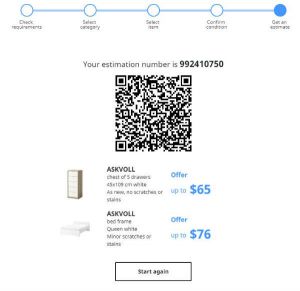 What stores is the service available at?
The take-back service will be available in all 10 sites across the country, with scope for overseas locations to take on the Australian division's initiative:
IKEA Tempe: 634-726 Princes Highway, Tempe NSW 2044
IKEA Rhodes: 1 Oulton Ave, Rhodes NSW 2138
IKEA Marsden Park: 1 Hollinsworth Rd, Marsden Park NSW 2765
IKEA North Lakes: Westfield North Lakes, North Lakes QLD 4509
IKEA Logan: 3539-3565 Pacific Hwy, Slacks Creek QLD 4127
IKEA Richmond: 630 Victoria Street, Richmond VIC 3121
IKEA Springvale: 917 Princes Highway, Springvale VIC 3171
IKEA Canberra: 1030 Majura Road, Majura ACT 2609
IKEA Perth: 6 Sunray Drive, Innaloo WA 6018
IKEA Adelaide: 397 Sir Donald Bradman Drive, Adelaide Airport SA 5950
Picture credits: Fishman64/shutterstock.com