A weekend trip to IKEA means hours walking around the showroom trying to find something you like. Fortunately, the Swedish furniture retailer is making some of the decision-making a little bit easier by providing a guide to its "most popular" products on sale right now.
From shelving units and bookcases to sofas and beds, IKEA is boasting a diverse range of popular items, although it's not clear what exactly defines "popular". Nevertheless, here's a quick guide to some of the most eye-catching bargains on sale at IKEA at the time of publication. You may just find something you like!
IKEA Friheten Sofa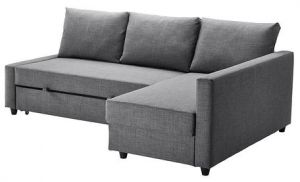 It's unusual to find a good corner sofa for less than four-figures these days, but IKEA's 'Friheten' sofa looks like a bit of a bargain at $849.
IKEA says the sofa converts quickly and easily into a spacious double bed when you remove the back cushions and pull out the underframe. There's also storage space under the chaise longue, and the lid stays open so you can safely and easily take things in and out.
You can place the chaise longue section to the left or right of the sofa, and switch whenever you like.
IKEA Hemnes Sofa-Bed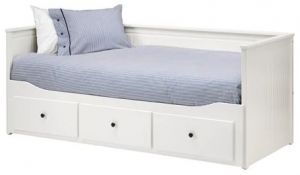 A sofa, a single bed, a double bed, and storage all in one piece of furniture! That's what you get with the 'Hemnes', according to IKEA. And it only costs $499!
"With some fluffy, soft pillows as back support, you can easily transform this day-bed into a comfortable sofa or chaise longue," IKEA boasts on its website.
The sofa can be transformed into a single bed in "no time" so you can maximise the use of floor space in whichever room you decide to put it, and have a quick and easy bed for overnight guests. Just pull out the bed base and you get a double bed. Goodbye floor space.
The large drawers underneath have space for extra quilts, pillows, linens or any other things you need to store, but want to have close at hand.
IKEA Malm Drawers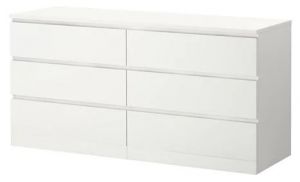 A chest of six drawers for under $250! No wonder IKEA puts this on its list of most popular products.
"A clean expression that fits right in, in the bedroom or wherever you place it. Smooth-running drawers and in a choice of finishes – pick your favourite," IKEA says of the drawers.
However, the retailer also makes clear that the unit should be attached to the wall because it could pose a tipping hazard. A safety fitting is included so that you can attach the chest of drawers to the wall.
IKEA HÖVÅG Mattress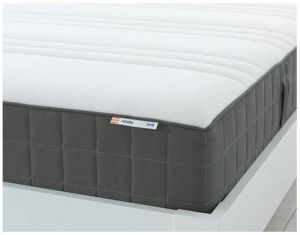 You don't see many double mattresses for under $400, but here you go.
"You get support in the right places with the help of individually wrapped pocket springs that work independently and closely follow your body," IKEA says of the HÖVÅG.
The mattress is said to come with a generous layer of soft filling which adds support and comfort, while the stretch fabric on the topside of the mattress moves with you to maximise comfort.
It's also designed to be used on one side only – so no need to turn. It's to be completed with a slatted bed base or a mattress base, but watch out for the smell, according to IKEA.
"Sometimes the mattress has a noticeable smell when you open the packaging. The smell isn't harmful or toxic and disappears over time. Airing and vacuuming the mattress helps to eliminate the smell faster."
IKEA Liatorp Bookcase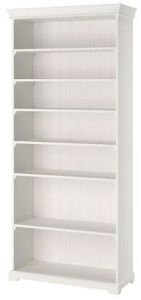 Want a good bookcase? You could do a lot worse than the 'Liatorp' from IKEA, although at $499 it doesn't seem as cheap as you might expect from the home of bargain furniture.
"Are you a romantic at heart? The delicate shapes and details remind of country living," IKEA says of its… bookcase… "Combine with other furniture in the Liatorp series for a complete, beautiful look."
The cornice and plinth rail is said to help create a uniform expression when two or more units are connected together, while the shelves are adjustable so you can customise your storage as needed.
However, be aware that this bookcase must be fixed to the wall with the enclosed wall fastener. Different wall materials require different types of fixing devices. Use fixing devices suitable for the walls in your home, sold separately.
Two persons are needed for the assembly of this furniture.
IKEA Kallax Shelving Unit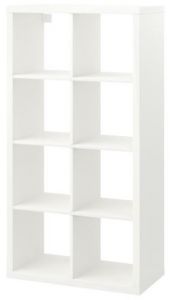 Sometimes you just need some extra shelving space for all those magazines and knick-knacks. If that sounds like your home, IKEA seems to be offering an absolute bargain with this $80 'Kallax' unit.
"Standing or lying, against the wall or to divide the room – the Kallax series is eager to please and will adapt to your taste, space, budget and needs," IKEA says about the unit. "Fine tune with drawers, shelves, boxes and inserts."
IKEA also suggests you can use the furniture as a room divider because it looks good from every angle. You can also choose whether you want to place it vertically or horizontally and use it as a shelf or sideboard.
Like some of the other IKEA products mentioned above, you must fix this unit to a wall with the enclosed wall fastener.