Take a walk around your local supermarket and one of the most colourful aisles you'll find will be the one with all the laundry detergent.
Dozens of brands are piled high, all hoping to catch a glimpse of your eye. It's an incredibly competitive space, but an Australian company is looking to make a big impression, launching its first laundry detergent after great success with its household cleaning products.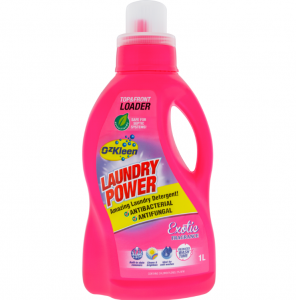 OzKleen, based in the town of Ormeau near Brisbane, is best known for Shower Power – the bathroom cleaner that "actually works". In fact consumers tend to agree, with the brand winning our customer satisfaction award for bathroom cleaners in 2014.
But since then the team in Queensland has been perfecting a new laundry liquid to rival the likes of Cold Power, Earth Choice and OMO. Keeping in line with the OzKleen theme, it's called Laundry Power and promises to sanitise your wash and leave your laundry "smelling fresh and elegant".
"It's a very competitive industry but we saw an opportunity to bring to market a totally unique and superior laundry detergent," said Colin Heron of OzKleen. "Laundry Power is the only laundry detergent on the market that sanitises the wash, making it ideal for washing linen with bedbugs. It's anti-bacterial and anti-fungal. It also contains the latest technology to leave the washing smelling fresh."
Laundry Power has been two years in the making and only requires a quick wash cycle to tackle tough stains, said Mr Heron. It's now available to buy in most Woolworths stores.
"We only launched Laundry Power when we were convinced that it's far superior to other laundry detergents on the market," he said. "We've received a steady stream of testimonials about Laundry Power since the launch. Most customers who trial the product absolutely love it. Our only hurdle is getting customers to trial it."
Click here to read our customer satisfaction ratings for all home cleaning products