Paint giant Dulux has been splashed with a $400,000 fine for misleading consumers over the temperature reducing claims of two paint products.
From June 2009 until September 2012, the company promoted its heat-reflective roof paint, InfraCOOL, as a product that could reduce the interior temperature of the home by up to 10 degrees. Between November 2011 and September 2012, Dulux also promoted its Weathershield Heat Reflect wall paint as being able to significantly reduce the inside temperature of a house.
InfraCOOL was advertised in trade paint stores and on the Dulux website, while Weathershield Heat Reflect was promoted in a wide variety of media, including lifestyle magazines, major regional newspapers across Australia, television advertisements, in-store pamphlets, flyers and colour cards and on the paint tins themselves.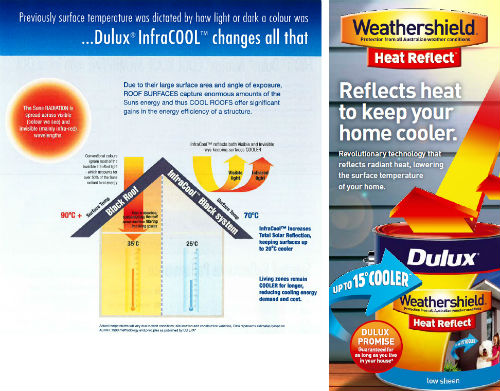 In proceedings brought by the Australian Competition and Consumer Commission, the Federal Court found that each of these claims was false or misleading after Dulux admitted it did not have any reasonable grounds for making such claims.
"Dulux promised a real consumer benefit at a premium price, apparently supported by scientific evidence, when in fact Dulux had no reliable evidence of what benefit could be delivered in real world conditions because it had not tested for any reduction in the room temperature of houses painted with these products," ACCC Chairman Rod Sims said.
"Businesses have a responsibility to ensure that accurate information is given to consumers about the performance characteristics and benefits of their products, and that these claims are backed by adequate scientific or technical evidence. This is particularly the case where consumers pay a premium to purchase products that are promoted as delivering particular benefits."
Dulux paint's lower inside temperature claims rubbish says ACCC. Turn fan on instead. #ausbizhttps://t.co/G5aZ1oezMp via @FinancialReview

— Simon Evans (@SimonMEvans) November 3, 2016
Dulux consented to declarations by the court and provided an undertaking to not to make similar representations unless it has reasonable grounds for doing so, and to clearly and prominently explain the factors that may reduce the effect of applying heat reflective paint.
Dulux was also ordered to publish corrective notices in The Australian newspaper and on its website, and to pay the ACCC's costs.
Dulux no longer sells the Weathershield Heat reflect Paint.