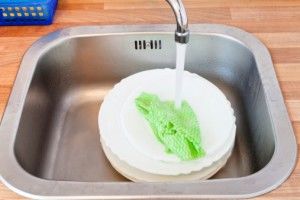 Many Australians risk exposing themselves to potentially harmful bacteria – simply because they continue to use dirty dishcloths to do the washing up.
A Canstar Blue survey has found that 27% of adults go a whole month or even longer without replacing their dishcloth. And experts warn that could have a detrimental effect on their health, especially, if dishcloths are also used to clean other areas of the kitchen or home.
Marjorie Harvey, founder and director of Australia Food Hygiene Services, said: "Dishcloths can definitely harbour many dangerous food poisoning bugs if not maintained hygienically. If benches are wiped, and the cloth remains damp and harbouring food particles, it would be laden with a high level of bacteria. The same applies to sponges and scouring pads.
"If the dishcloth is used for other purposes, it would also pose a risk if then used back in the kitchen."
The survey of almost 2,400 adults found that 40% change their dishcloth on a weekly basis, while 12% do so every single day.
"Interestingly, the men doing the dishes appear to be the most hygienic," said Canstar Blue's Simon Downes. "The women surveyed were more likely than men to go a month or longer without changing their dishcloth, while men were more likely to change it on a daily or weekly basis. And the younger you are, the more likely you are to go a long period of time using a dirty dishcloth.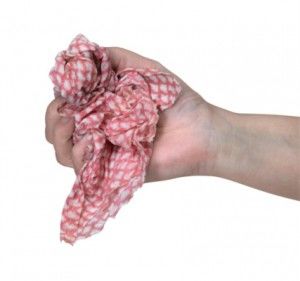 "We also found that 50% of adults will use their dishwashing liquid to clean other areas of their home, which could mean they use their dishcloth to do so. We've all spilt something on the carpet or couch, panicked, and reached out for the easiest cleaning tool at hand."
Some of the areas cleaned with dishwashing liquid include kitchen benches and appliances, the bathroom, floor and carpet.
So how can you avoid exposing yourself and your family to harmful bacteria through your dirty dishcloth – apart from not cleaning the floor with it!? Here are some healthy tips:
1) Use a single use cloth and dispose of it at the end of each day.
2) Soak your dishcloth in a sanitising solution if not washing hygienically in the washing machine.
3) Have colour clothes depicting which is for kitchen benches, bathroom, floor or other purposes.
4) Avoid leaving dishcloths sitting in the sink, wet and with food particles remaining.
5) Wash the dishcloth in a sanitising solution (i.e Napisan) after using it for other purposes before using again.
6) Thoroughly rinse the dishcloth after use and arrange a place to hang it between uses throughout the day.
7) Avoid using dishcloths for wiping hands after food preparation, unless washing before using again.