Ideally a professional would undertake any work on your roof. But if you do get up there yourself, this is how to stay safe.
Ideally, any work done on your roof should be handled by a licensed professional. But for those times when you need to do a quick clean up, fix a broken tile or grab a lost ball; there are ways to safely do the job yourself.
All you need is some basic equipment and to follow these helpful tips.
Get the Right Gear
Whether you're going on the roof for several hours or a few minutes, there's no excuse to not prepare yourself with the right equipment. There are many good products you can buy in-store or online. If you only need equipment for a one-time job, you can hire industry-grade products from a local supplier at very reasonable prices.
What kind of equipment do you need to safely access your roof? Let's take a look:
Extension Ladder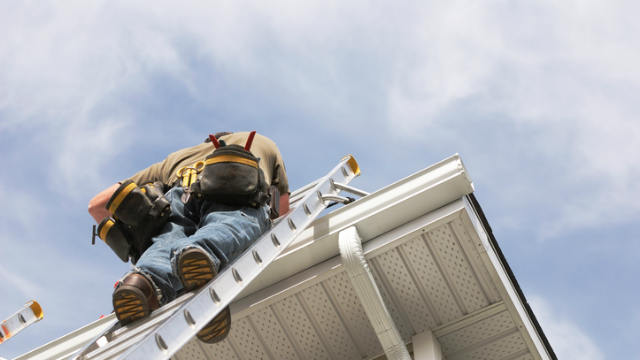 An extension ladder will let you safely access most domestic rooftops with ease. Make sure the ladder is high enough to not only reach the roof – but extend 1m above the gutter or the roof itself.
Place the ladder down on a flat and even surface. If you need to place it onto dirt or the grass, dig a hole for both feet to sit evenly. Is your ladder not 100% stable? Use a ladder stabiliser to reinforce the balance and increase its slip resistance.
To position the ladder correctly, adjust the ladder to a 65° or 70° angle. This will let you stand upright and comfortably reach the ladder rung within an arm's length.
Don't place the ladder near a doorway or a spot where people cannot clearly see it. This will prevent people from accidentally walking into it and injuring themselves – or you, for that matter.
Rooftop Harness
When it comes to separating you from the ground below… a safety harness is the only thing that can save you from a dangerous fall.
Get a polyester harness with front and rear support along with adjustable chest, leg and pelvic straps. The lightweight polyester material will keep you comfortable and won't degrade or fray over time.
Whether you work during the day or night, wear a harness with bright colours so you're clearly visible at all times.
Footwear
Don't even think about putting on those thongs or slippers. Grab a pair of durable, non-slip footwear that provides excellent traction with thick soles to keep you comfortable and nicely balanced. Most pairs of casual or work boots will give you the support you need.
How to Walk on a Rooftop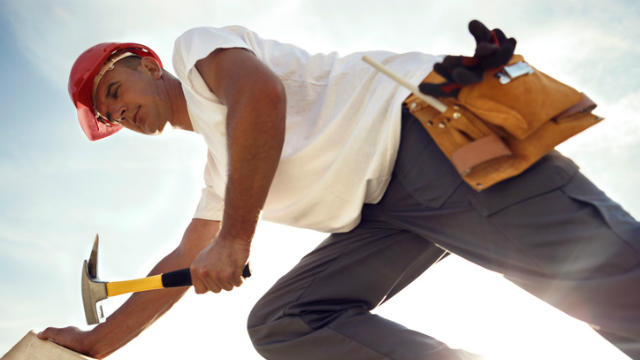 Domestic rooftops aren't designed for people to walk on. But there are ways to navigate your way across most tiled and metal surfaces.
For tiled rooftops, there are no backfills to give them the support they need to handle the excess weight. Barrel and S-shaped tiles are especially prone to damage and are expensive to replace.
Choose your route wisely and slowly walk towards your destination. Avoid walking on the centre of the tile. Instead, place your feet where the bottom of one tile is overlapping with another. The strength of both tiles will give you enough support to walk across them safely.
Don't walk on any damaged tiles and keep your eyes peeled for any signs of chips, cracks or splits.
While metal rooftops are more durable than tiled surfaces, they can still be damaged from walking and exposed to leaks or debris. To avoid causing damage, walk along the lines of where the screws are located.
Rooftop Etiquette
Before you head onto the roof, it's important to plan ahead and have a clear understanding of what you'll be doing and how long you intend to stay up there.
If you get distracted or lose your concentration, you could risk falling and causing serious injury. Consider these tips before and during your time up on the roof:
Don't go on the roof in wet weather or shortly after any period of rainfall. Let the surface dry and wait another day to get the job done – the risk is not worth it!
Never work on a rooftop alone. Always have a friend, family member or neighbour to keep an eye on you. If you have a sudden fall or need help getting down, you need someone who's willing to get you out of a dangerous situation.
Take plenty of breaks during work and remember to stay hydrated. If you find yourself feeling disorientated or not quite right, come down immediately and take the time to readjust.
Don't force yourself to do anything you're uncomfortable with. If you don't feel confident enough to go on the roof, get a reliable friend or professional service to do the job for you. Again, the risk of injury is not worth it.
Stay safe up there!