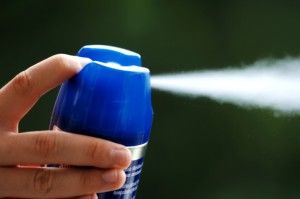 There's a can of insecticide in most Australian homes and according to our research, 56% of us use it preemptively to ward off creepies and crawlies. But – have you ever wondered what's actually in it?
We have looked at the active ingredients list of the majority of brands surveyed in our recent insecticide customer satisfaction ratings and the rundown is as follows:
Pyrethroids
Various types of pyrethroids are very common in off-the-shelf insecticides. They are a synthetic version of the naturally-occurring pyrethrins produced by Chrysanthemums and coccineums. They work by hyperactivating nerve cells of insects, leading to paralysis and death. Because pyrethroids are metabolized quickly, there is little risk to human health in small quantities. According to the US Environmental Protection Agency (EPA), pyrethroids are also toxic for fish and amphibians, bees and dragonflies, and invertebrates. Cats can also be sensitive to pyrethroids.
Common pyrethroids listed on the active ingredients list of household insecticides include:
Tetramethrin
Phenothrin
Allethrin
Permethrin
Pyrethrin
Imiprothrin
Esbiothrin
Piperonyl Butoxide
The other main ingredient of some insecticides is Piperonyl Butoxide, which of itself isn't toxic to insects, but which can enhance the toxicity of the pyrethroids. In basic terms, it helps the toxic agent to "stick" to the insect until it has had time to work.
Always ensure that you read the ingredients – and the warnings – on any insecticide that you buy. You can read more about pesticides in general here.