6th SENSE Induction Oven by Whirlpool – Innovation Award Winner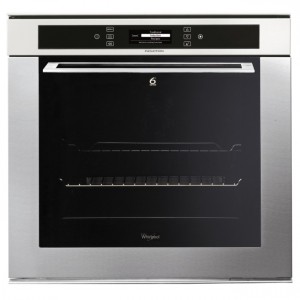 A state of the art oven that uses induction heating for an even, tailored and quick cook.
Reviewed by the Canstar Blue judging panel on 4 November 2015.
No kitchen would be complete without a trusty oven to make cooking easy at the end of a long day. No other household appliance can stake a claim to being part of the kitchen furniture quit like your oven – literally. But are you getting the best out of your oven? Canstar Blue's research found reliability and even heat distribution are the greatest drivers of customer satisfaction for consumers when they buy a new oven – and not everyone is getting what they wanted. What's more frustrating than an oven that doesn't live up to expectations when all you want is a great meal, cooked properly? But what if you could buy an oven that guarantees perfect and speedy results?
Busy households demand quick and quality cooking, which is why Canstar Blue's Innovation Excellence Awards judging panel was won over by the 6th Sense Induction Oven by Whirlpool. The American home appliance manufacturer has raised the bar in terms of what modern day ovens should be capable of. Using induction heating methods, it leaves food perfectly cooked on the inside and nicely browned on the outside. The best cooking results come at a price, but given the average household keeps an oven for around 12 years, it could turn out to be a very good investment.
How does the 6th Sense Induction Oven work?
The 6th Sense Induction Oven boasts a unique cooking method. The heating process is activated through the induction tray, the pot provided and the grill. This cooking process uses less energy than traditional oven cooking, so you might even save on your power bills, too. The oven has 16 different food categories, allowing its temperature sensor and 6th Sense technology to adapt to the appropriate cooking time. Whether you're cooking meats, fish, vegetables or desserts, you can have confidence that the 6th Sense Induction Oven is up to the job.
Why is it innovative?
The 6th Sense Induction Oven is the first of its kind with an induction heating shelf. It uses a magnetic field within the induction shelf which works directly with the induction tray to heat your food. This ensures food is cooked quickly and evenly throughout.
What does it cost?
The 6th Sense Induction Oven is at the premium end of the market. Canstar Blue found consumers spent an average of $981 when they last bought an oven. This model from Whirlpool will set you back about $2,100.
Canstar Blue's Innovation Excellence Awards have been determined through a panel of external and internal judges, who adhere to a strict awards methodology – outlined below. Brands or representatives of brands submitted products for consideration. We also accepted consumer nominations, where anyone could submit products they thought were worthy of an innovation award, and also conducted our own research to identify products that were worthy of consideration.
A single legitimate submission was all that was needed for a product to be considered by our judging panel. To be described as innovative, we assessed both the degree of innovation and the overall impact the product could have. In terms of degree, we considered whether there are any other similar products available, where it is a "first" in Australia or New Zealand, and where it opens up any new markets. We also assessed the potential significance of impacts to the existing market in terms of competition. And, of course, something that's truly innovative will have "wow" factor. In terms of overall impact, we considered the number of people who could benefit from the innovation, its ease of use, expense, and the potential it has to change people's lives.