AM10 Humidifier by Dyson – Innovation Award Winner
Posted by Canstar Blue January 7th 2016
One of the most effective and unobtrusive humidifiers on the market.
Reviewed by the Canstar Blue judging panel on 4 November 2015.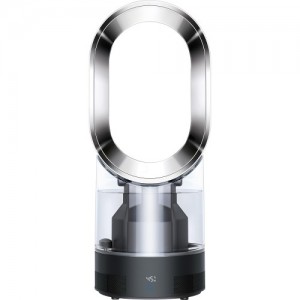 As every Australian knows (and most tourists soon find out), our summers are swelteringly hot. The dry, humid days are something that many of us struggle with and every year, our electricity bills increase as we use all manner of appliances to try and stay cool.  Air conditioners and fans do a good job in combating the heat, but there's more to comfort than that – you also have to consider humidity, and for that, you'll need a humidifier. Ideal for hot summer days and chilly mid-winter nights, humidifiers are devices that increase a room's hydration by forcing moisture into your indoor air in the form of an invisible mist.
Both heating and cooling systems can leave your home with very dry air, something which can cause respiratory problems and a lot of static discharge on rough surfaces – such as your living room carpet. Humidifiers solve these problems and create a comfortable atmosphere for you to get on with your day. Portable humidifiers are readily available at hardware and tech stores, but there isn't a single model on the market quite like the AM10 by Dyson.
What is the AM10 Humidifier?
The Dyson AM10 humidifier is a device which combines Dyson's patented Air Multiplier technology and Ultraviolet Cleanse technology to create one of the most effective, unobtrusive and hygienic humidifiers on the market. Consisting of a water reservoir base beneath a fan module, the Dyson humidifier can project hygienic mist evenly around a room and can double as a regular fan if it's a humid day outside.
Dyson is best known for its range of market-leading vacuum cleaners and the AM10 Humidifier continues and enhances the brand's tradition of helping customers deal with respiratory and allergy challenges. Just as consumers buy Dyson vacuum cleaners to successfully remove dust and pollen from the house, the AM10 Humidifier helps create a more comfortable living space for the whole family and helps with a range of health conditions, including Bronchiolitis and eczema.
Why is it innovative?
As you'd expect from a Dyson product, the device comes with several technological innovations. The Dyson humidifier is the only humidifier with patented Ultraviolet Cleanse technology. This technology exposes water in the tank to an ultraviolet light, which Dyson says kills 99.9% of bacteria before any mist is projected into the room. This, coupled with Air Multiplier technology, allows the machine to distribute the mist around the whole room evenly and efficiently.
With Intelligent Climate Control, the Dyson humidifier constantly measures both the temperature and the humidity of the air to ensure the most comfortable level of hydration for the room is maintained. It can also operate for up to 18 hours on a single tank of water – great for staying comfortable during a long night's sleep. Finally, the Dyson humidifier is quiet. It is the world's first humidifier to be awarded the Quiet Mark by the Noise Abatement Society.
How much is it?
The Dyson AM10 humidifier currently retails for around $799.
Canstar Blue's Innovation Excellence Awards have been determined through a panel of external and internal judges, who adhere to a strict awards methodology – outlined below. Brands or representatives of brands submitted products for consideration. We also accepted consumer nominations, where anyone could submit products they thought were worthy of an innovation award, and also conducted our own research to identify products that were worthy of consideration.
A single legitimate submission was all that was needed for a product to be considered by our judging panel. To be described as innovative, we assessed both the degree of innovation and the overall impact the product could have. In terms of degree, we considered whether there are any other similar products available, where it is a "first" in Australia or New Zealand, and where it opens up any new markets. We also assessed the potential significance of impacts to the existing market in terms of competition. And, of course, something that's truly innovative will have "wow" factor. In terms of overall impact, we considered the number of people who could benefit from the innovation, its ease of use, expense, and the potential it has to change people's lives.