CareStyle 5 by Braun – Innovation Award Winner
Posted by Canstar Blue January 7th 2016
An iron that glides over obstacles and adjusts to the ideal temperature for different fabrics.
Reviewed by the Canstar Blue judging panel on 4 November 2015.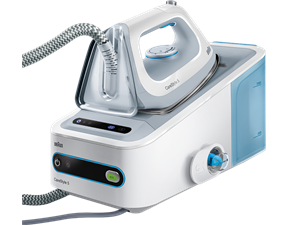 You might be the type of person who loves ironing, though, chances are – you're not. It can be a strenuous and time consuming chore, especially if you aren't familiar with the recommended temperatures and steam settings for different fabrics. Even more frustrating is when the iron gets stuck on buttons and pockets, creating more wrinkles and slowing you down considerably. Wouldn't it be nice if there was an iron that made sure you didn't have to worry about these things? Simply turn it on and away you go.
Ironing is one of those chores that we reluctantly do, so the less time and effort it takes, the better. That's why the CareStyle 5 by Braun impressed the Canstar Blue Innovation Excellence Awards judging panel. It uses smart sensory technology it calls 'iCare' to automatically adjust to the ideal temperature on contact with different fabrics, guaranteeing the best results. With the first 3-D Eloxal stainless steel soleplate, the CareStyle 5 glides effortlessly over obstacles like buttons and pockets, making ironing considerably faster. In fact, according to internal Braun laboratory testing, the CareStyle 5 takes half the time to iron compared to traditional steam irons.
The soleplate also includes a 'BackGlide' feature, which helps the iron glide effortlessly, even backwards, over zippers, seams and buttons. The soleplate coating is Eloxal, which is twice as hard as stainless steel for optimum 'glideability', as well as enhanced scratch resistance and durability.
Other features of the CareStyle 5 include a user-friendly digital interface, excellent steam rate, low power function, compact design, and safety auto off function when the iron is unused for 10 minutes.
Why is it innovative?
The CareStyle 5 is the first iron to integrate smart technology with effective design. The iCare technology, in combination with the Eloxal plating and friendly interface, takes the hassle out of ironing, making it quicker and easier without compromising on quality.
What does it cost?
The CareStyle 5 has a recommended retail price (RRP) of $299.
Canstar Blue's Innovation Excellence Awards have been determined through a panel of external and internal judges, who adhere to a strict awards methodology – outlined below. Brands or representatives of brands submitted products for consideration. We also accepted consumer nominations, where anyone could submit products they thought were worthy of an innovation award, and also conducted our own research to identify products that were worthy of consideration.
A single legitimate submission was all that was needed for a product to be considered by our judging panel. To be described as innovative, we assessed both the degree of innovation and the overall impact the product could have. In terms of degree, we considered whether there are any other similar products available, where it is a "first" in Australia or New Zealand, and where it opens up any new markets. We also assessed the potential significance of impacts to the existing market in terms of competition. And, of course, something that's truly innovative will have "wow" factor. In terms of overall impact, we considered the number of people who could benefit from the innovation, its ease of use, expense, and the potential it has to change people's lives.