Duo Fusion by ASKO – Innovation Award Winner
Posted by Canstar Blue January 7th 2016
A cooktop that combines the flexibility of a gas flame with the precision of induction heating.
Reviewed by the Canstar Blue judging panel on 4 November 2015.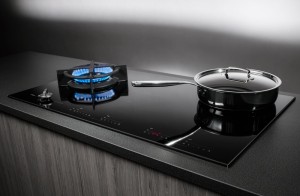 Cooktops can be an incredibly divisive appliance among chef types. Some swear by the traditional gas flame hob, but others will defend their electric stove to the death. Neither type of stove is superior to the other, making the decision tricky for some. But what if there was a product that incorporated both – effectively ending the need to choose between one of the other? It would be a revolution for kitchens around the world, and that's why Canstar Blue's Innovation Excellence Awards judging panel was particularly taken with ASKO's Duo Fusion.
The stovetop integrates both a gas burner and a four-part electric stove to create a cooktop that gives users the best of both worlds, providing the instant flexibility of a gas flame along with the precision of an electric stove. The ability to use both at the same time means that a chef of any calibre can cook up a number of entirely different meals simultaneously, and cuts out any compromise one may have to make when purchasing a cooktop.
What is the Duo Fusion?
The Duo Fusion is a 90cm wide cooktop, covered by 6mm ceramic glass. That 90cm of stovetop real estate is divided between a 57cm electric cooktop comprised of four cooking zones, and a 33cm Fusion Volcano Wok Burner which, despite the name, will work just fine with pots and pans too. The Volcano Wok Burner is designed to generate a greater amount of heat than standard gas stoves, and then direct that heat to the base of the wok or other cooking vessel, rather than around the sides. However, the Burner is also incredibly versatile, having an additional outer flame that can be switched on for bringing large pots to the boil, along with a simmer setting for lower heat and a smaller flame.
Why is it innovative?
The Duo Fusion eliminates a problem that some people face when choosing a cooktop for their home. Do you want the versatility and flexibility of a gas stove, or the precision and consistency of an electric stove? The Duo Fusion removes this problem by providing a cooktop that allows the consumer to use both, satisfying any cook and allowing for a number of different cooking styles on the same cooktop. No other cooktop currently available offers this combination of gas and electric cooking, and the addition of the Fusion Volcano Wok Burner (an innovation in itself), makes this product even more innovative.
What does it cost?
The Duo Fusion cooktop currently retails for $4,999.
Canstar Blue's Innovation Excellence Awards have been determined through a panel of external and internal judges, who adhere to a strict awards methodology – outlined below. Brands or representatives of brands submitted products for consideration. We also accepted consumer nominations, where anyone could submit products they thought were worthy of an innovation award, and also conducted our own research to identify products that were worthy of consideration.
A single legitimate submission was all that was needed for a product to be considered by our judging panel. To be described as innovative, we assessed both the degree of innovation and the overall impact the product could have. In terms of degree, we considered whether there are any other similar products available, where it is a "first" in Australia or New Zealand, and where it opens up any new markets. We also assessed the potential significance of impacts to the existing market in terms of competition. And, of course, something that's truly innovative will have "wow" factor. In terms of overall impact, we considered the number of people who could benefit from the innovation, its ease of use, expense, and the potential it has to change people's lives.