Perfect Bake Scale by Perfect Company – Innovation Award Winner
Posted by Canstar Blue January 8th 2016
A smart baking system that walks the user through the entire baking process.
Reviewed by the Canstar Blue judging panel on 4 November 2015.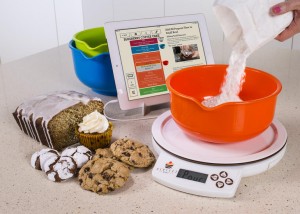 Lots of people love baking – and even more of us love eating those tasty treats that come from it. But baking can be a fine art and can easily go pear-shaped if you don't follow the instructions properly – or don't follow any at all. So unless you have grandma's secret recipe down to a tee, you'll probably need some help along the way. Imagine if there was a digital baking system that walks you through the entire baking process and takes away the guesswork over measurements to deliver perfect results?
The best thing about baking is being able to present your delicious creations to your friends and family, which is why Canstar Blue's Innovation Excellence Awards judging panel was impressed by the Perfect Bake Scale & App from Perfect Company. Essentially, users can follow the baking instructions provided through their tablet or smartphone. From measuring the ingredients, to mixing, portioning, baking and cooling, the Perfect Bake set will guide you to baking perfection.
What is the Perfect Bake Scale?
The Perfect Bake Scale set consists of a digital scale, a stand to prop up your phone or tablet (so you can easily follow the directions), three mixing bowls and a thermometer. It allows users to bake by weight, which can be easier – and more precise – than baking by volume. The scale also removes the need to convert measurements. You just pour all the ingredients into a single bowl on top of the scale, one by one, until the app tells you when to stop. If you pour too much, it adjusts the other ingredients to balance this. Users are walked through the whole recipe, and the app includes hundreds of different ones to choose from. You can adjust these recipes to your liking or add your own ones.
Why is it innovative?
The Perfect Bake Scale & App takes baking into the 21st century. It eliminates the trial and error approach to traditional baking and delivers delicious results. It makes baking possible for those who may not otherwise have had the confidence to try it and is a great way of introducing kids to cooking.
What does it cost?
The Perfect Bake Scale set generally retails for around $70.
Canstar Blue's Innovation Excellence Awards have been determined through a panel of external and internal judges, who adhere to a strict awards methodology – outlined below. Brands or representatives of brands submitted products for consideration. We also accepted consumer nominations, where anyone could submit products they thought were worthy of an innovation award, and also conducted our own research to identify products that were worthy of consideration.
A single legitimate submission was all that was needed for a product to be considered by our judging panel. To be described as innovative, we assessed both the degree of innovation and the overall impact the product could have. In terms of degree, we considered whether there are any other similar products available, where it is a "first" in Australia or New Zealand, and where it opens up any new markets. We also assessed the potential significance of impacts to the existing market in terms of competition. And, of course, something that's truly innovative will have "wow" factor. In terms of overall impact, we considered the number of people who could benefit from the innovation, its ease of use, expense, and the potential it has to change people's lives.