Perfect Drink Scale by Perfect Company – Innovation Award Winner
Posted by Canstar Blue January 8th 2016
A smart drink-making system that uses a virtual glass to deliver perfect cocktails.
Reviewed by the Canstar Blue judging panel on 4 November 2015.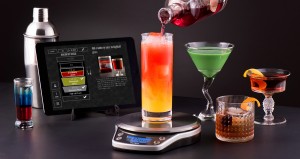 If you're the kind of person who likes entertaining friends and family at home, you'll know about the difficulty that can occur when people request drinks you just don't know how to make. Even if you have a bar stocked with all the ingredients you need, how do you know the correct measurements? The last thing you want to do is embarrass yourself by asking for help, or even worse by getting it wrong. But what if there was a smart drink making system that guided you through the process and made you look like a pro?
You get a great feeling from putting on a good show, which is by Canstar Blue's Innovation Excellence Awards judging panel was impressed by the Perfect Drink Scale & App by Perfect Company. It opens up a world of cocktail-making possibilities, walking the user through the mixing process from their tablet or smartphone. So the next time you play host, you can feel confident enough to ask: "Can I get anyone a drink?"
What is the Perfect Drink Scale?
The Perfect Drink Scale set consists of a smart scale, stainless steel shaker, a stand to prop up your phone or tablet and app for Android or iOS. Guided by the app, the user can select from 300 different recipes and follows the step by step directions. You can adjust these recipes to your liking or add your own ones. As ingredients are poured into the glass on the scale, a virtual glass on the screen shows exactly how much of each ingredient is required for the recipe. If you pour too much, it adjusts the other ingredients to balance this. Follow the guide and you can't go wrong.
Why is it innovative?
The Perfect Drink Scale takes away the need to measure individual ingredients. It allows users to pour the correct amount straight into the glass in confidence. It makes bartending quick and easy, so you can get back to the party.
What does it cost?
The Perfect Bake Scale set generally retails for around $50.
Canstar Blue's Innovation Excellence Awards have been determined through a panel of external and internal judges, who adhere to a strict awards methodology – outlined below. Brands or representatives of brands submitted products for consideration. We also accepted consumer nominations, where anyone could submit products they thought were worthy of an innovation award, and also conducted our own research to identify products that were worthy of consideration.
A single legitimate submission was all that was needed for a product to be considered by our judging panel. To be described as innovative, we assessed both the degree of innovation and the overall impact the product could have. In terms of degree, we considered whether there are any other similar products available, where it is a "first" in Australia or New Zealand, and where it opens up any new markets.
We also assessed the potential significance of impacts to the existing market in terms of competition. And, of course, something that's truly innovative will have "wow" factor. In terms of overall impact, we considered the number of people who could benefit from the innovation, its ease of use, expense, and the potential it has to change people's lives.