Precision Cooker by Anova – Innovation Award Winner
Posted by Canstar Blue January 8th 2016
A low-cost precision cooker that sets the correct temperature and time for the best results.
Reviewed by the Canstar Blue judging panel on 4 November 2015.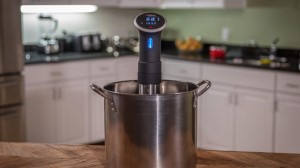 Have TV cooking shows inspired you to get creative in the kitchen? Do you watch on in envy as celebrity chefs, or even amateur cooks, produce the most amazing dishes? Lots of people love to cook and entertain, but creating those mouth-watering gourmet meals that will impress your friends and family isn't easy, and just one false move could lead to a kitchen calamity. There's nothing worse than an overcooked piece of meat, but it's easily done. However, what if there was a low-cost precision cooking device that set the optimum time and temperature for you?
Everyone should get the chance to eat great food, which is why Canstar Blue's Innovation Excellence Awards judging panel gave a big nod of approval to the Precision Cooker by Anova. This gives everyone the tools they need to create those marvelous meals. If you struggle with under or over-cooking meat or other foods, this device takes away the risk. Being able to set the appropriate cooking time and temperature for the finest results will mean you can plan those dinner parties in confidence.
How does the Precision Cooker work?
The Precision Cooker can be attached to any pot with its adjustable clip. You then use the app to find the correct cooking settings and away you go. You could also use the Precision Cooker's simple interface to set the time and temperature. Simply fill a pot with water, prepare your food and place in a re-sealable bag, clip the bag of food to the side of the pot and let the Precision Cooker do the rest. The app also comes with recipe ideas as well as the appropriate cooking time and temperature required for them.
Why is it innovative?
Sous vide cooking has previously been limited to kitchen restaurants, but this device has the potential to take restaurant-quality cooking into the home with its relative compact size and affordability.
What does it cost?
The Precision Cooker generally retails for around $179.
Canstar Blue's Innovation Excellence Awards have been determined through a panel of external and internal judges, who adhere to a strict awards methodology – outlined below. Brands or representatives of brands submitted products for consideration. We also accepted consumer nominations, where anyone could submit products they thought were worthy of an innovation award, and also conducted our own research to identify products that were worthy of consideration.
A single legitimate submission was all that was needed for a product to be considered by our judging panel. To be described as innovative, we assessed both the degree of innovation and the overall impact the product could have. In terms of degree, we considered whether there are any other similar products available, where it is a "first" in Australia or New Zealand, and where it opens up any new markets.
We also assessed the potential significance of impacts to the existing market in terms of competition. And, of course, something that's truly innovative will have "wow" factor. In terms of overall impact, we considered the number of people who could benefit from the innovation, its ease of use, expense, and the potential it has to change people's lives.