TwinDos technology by Miele – Innovation Award Winner
Posted by Canstar Blue July 8th 2016
A washing machine cleaning system with automatic and accurate detergent dosing.
Reviewed by the Canstar Blue judging panel on 4 November 2015.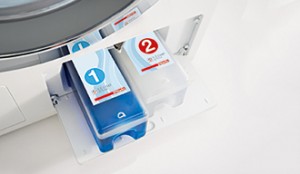 Doing laundry isn't the most enjoyable task, which is probably why it's tempting to rush the process and later wonder why you didn't get the best results. A Canstar Blue survey found that about one in three adults use too much laundry detergent when they wash their clothes, which is not only bad for the environment, but could also be bad for your washing machine and your favorite jumper. So what if there was a way you could get the job done quickly and accurately, with fantastic results?
We all want perfectly clean, fresh clothes and a washing machine we can count on to remove those unfortunate, stubborn stains. That's why Miele's TwinDos washing machine technology impressed in Canstar Blue's Innovation Excellence Awards for household appliances. Put simply, the TwinDos system automatically dispenses the appropriate amount of detergent for the load in question – therefore taking away that element of detergent guesswork to deliver a powerful and effective wash. You'll have to pay a premium price for quality, but you can put your feet up safe in the knowledge that your clothes will be in safe hands with Miele's leading range of front loader washing machines which come with the TwinDos technology. The German manufacturer of high-end home appliances is at the cutting edge of washing machine innovation.
What is the TwinDos System?
TwinDos is a two-phase washing system built into the Miele W1 range of front loader washing machines. It uses two integrated cartridges – the first filled with a liquid detergent (UltraPhase 1) and the second a detergent enhancer liquid (UltraPhase 2), including oxygenated bleach for stain removals. The liquids are dispensed at the appropriate time in the wash cycle and the appropriate ratio depending on the type of wash. This delivers the best liquid detergent system on the market as verified by the Hohenstein Institute, which confirmed excellent wash results in terms of stain removal, degree of whiteness, anti-greying and accuracy of dispensing. It works equally well for coloured and white clothes, and fabrics. Replacement bottles of the two Miele detergents can be purchased online. Conventional detergents and fabric softener can also be used with refill containers (sold separately).
The UltraPhase 1 detergent is said to last for an average of 37 wash loads, while the UltraPhase 2 detergent enhancer liquid will last around 50 washes.
Washing machines in this range also include a conventional dispenser at the top, allowing for standard detergents and conditioners. Select Miele washing machines also support the use of  Miele 'caps', small portioned capsules for perfect wash results for designed for specific fabrics and wash cycles, such as wool and silk.
Why is it innovative?
The TwinDos system is innovative for the convenience it offers and also the excellent cleaning results it delivers. It reduces the need for manually inserting detergent for every single wash and ensures that only the necessary amount is used for the best results. It is the only washing system of its kind in the Australian market.
What does it cost?
The TwinDos system is a feature of Miele's W1 range of front loader washing machines, with prices ranging from $2,599 to $4,499 at the time of writing.
Canstar Blue's Innovation Excellence Awards have been determined through a panel of external and internal judges, who adhere to a strict awards methodology – outlined below. Brands or representatives of brands submitted products for consideration. We also accepted consumer nominations, where anyone could submit products they thought were worthy of an innovation award, and also conducted our own research to identify products that were worthy of consideration.
A single legitimate submission was all that was needed for a product to be considered by our judging panel. To be described as innovative, we assessed both the degree of innovation and the overall impact the product could have. In terms of degree, we considered whether there are any other similar products available, where it is a "first" in Australia or New Zealand, and where it opens up any new markets.
We also assessed the potential significance of impacts to the existing market in terms of competition. And, of course, something that's truly innovative will have "wow" factor. In terms of overall impact, we considered the number of people who could benefit from the innovation, its ease of use, expense, and the potential it has to change people's lives.