Rear-Radar Safety System for Cars | Innovation Excellence
Posted by Canstar Blue April 13th 2015
Bosch Back Over Avoidance System
Reviewed by the Canstar Blue Judging Panel on .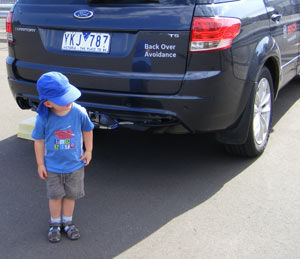 Safety is a paramount theme in modern car design. One of the most prominent systems being put in place in new vehicles is radar detection that can sense obstacles and traffic invisible to the driver. Enter: new technology from Bosch, dubbed 'Back-Over Avoidance' – a system which aims to drastically reduce accidents caused by driver blindness.
What is it?
Bosch's Back Over Avoidance system is an obstacle detection system that utilises radar and ultrasonic sensors in the rear of a vehicle to detect small objects behind the vehicle that the driver cannot see when reversing, such as young children and animals.
If the driver doesn't stop the car, then the system applies the brakes automatically to prevent a collision. The system was developed in Melbourne by Bosch Australia and will hopefully be rolled out by 2016.
Why is it innovative?
According to Bosch, in Australia there are an average of seven children under the age of 15 who are killed every year by a moving vehicle at home, and sixty who are seriously injured. Bosch's development of a robust rear object detection system for everyday cars will help reduce these avoidable accidents, and the ability of Bosch to mass-produce such a technology and distribute it to manufacturers around the world will only increase its usefulness.
Any product that makes efforts to save even a single life deserves attention, but a product that endevours to save many lives – especially the lives of children – is worth admiration.
Canstar Blue Innovation Excellence Award, 2015: 5 stars
About our Innovation Awards
Our Innovation Excellence Awards have been determined through a panel of judges, who adhere to a strict awards methodology – outlined below. Brands or representatives of brands submitted products for consideration to us for judging.
We also accepted consumer submissions, where anyone in the public could submit products they thought were worthy of an Innovation Award. Each submission type was given equal weighting by our judges.
A single legitimate submission was all that was needed for a product to be considered by our panel, and only submitted products were assessed.
To be described as innovative, we assess both the degree of innovation and the overall impact the product could have. In terms of degree, we consider whether there are any other similar products available, whether it is a "first" in Australia or New Zealand and whether it opens up any new markets.
We also assess the potential significance of impacts to the existing market in terms of competition. And, of course, something that's truly innovative can't help but have that "wow" factor. In terms of overall impact, we consider the number of people who can benefit from the innovation, the ease and expense of application, and the potential to change people's lives.