Hyundai iCare | Innovation Excellence
Posted by Canstar Blue April 13th 2015
Hyundai iCare Servicing & Support Program
Reviewed by the Canstar Blue Judging Panel on .
There are many factors that go into buying a new car; such as price, equipment, safety and performance. But one of the biggest aspects of car ownership is also a lot less 'sexy' than leather seats and sports transmission: it's the warranty and servicing that comes with it.
Manufacturers compete fiercely in this area, because its ongoing costs like these that comprise the bulk of your new investment. These manufacturers will offer longer and longer warranties and more comprehensive service inclusions to win you over, but few have created as comprehensive a service as Hyundai.
What is it?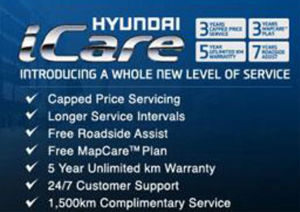 Hyundai's iCare program is a comprehensive after-sales service and support program, which provides a number of services rolled into a single package.
The deal starts with a 5 year, unlimited-kilometre warranty, a year of free roadside assist and a complimentary first service after 1,500km. along with this comes lifetime capped price servicing, as well as three years of free map updates from the HERE Maps navigation service built into the car's satellite navigation system (if applicable).
Furthermore, servicing your Hyundai at an iCare Service Centre can extend your free roadside assistance cover for up to ten years, as well as giving you some peace of mind that you're getting genuine parts for your car.
Why is it innovative?
Hyundai has combined Australia's first five-year unlimited kilometre warranty with a package of services that provide assistance for just about every automotive problem you might have.
After that first complimentary service at 1,500 kilometres, you could set out on a massive cross-country road trip – spanning states and territories, aided by your complimentary GPS, and rest safe in the knowledge that you have roadside assistance available if you require it.
Hyundai is giving you two key things with the iCare package: opportunity, and freedom. What you do with these is up to you.
Canstar Blue Innovation Excellence Award, 2015: 5 stars
About our Innovation Awards
Our Innovation Excellence Awards have been determined through a panel of judges, who adhere to a strict awards methodology – outlined below. Brands or representatives of brands submitted products for consideration to us for judging.
We also accepted consumer submissions, where anyone in the public could submit products they thought were worthy of an Innovation Award. Each submission type was given equal weighting by our judges.
A single legitimate submission was all that was needed for a product to be considered by our panel, and only submitted products were assessed.
To be described as innovative, we assess both the degree of innovation and the overall impact the product could have. In terms of degree, we consider whether there are any other similar products available, whether it is a "first" in Australia or New Zealand and whether it opens up any new markets.
We also assess the potential significance of impacts to the existing market in terms of competition. And, of course, something that's truly innovative can't help but have that "wow" factor. In terms of overall impact, we consider the number of people who can benefit from the innovation, the ease and expense of application, and the potential to change people's lives.