Mercedes Benz C-Class Touchpad | Innovation Excellence
Posted by Canstar Blue April 13th 2015
Mercedes Benz Cockpit Management & Data System (COMAND)
Reviewed by the Canstar Blue Judging Panel on .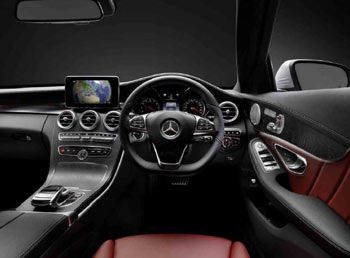 The compact luxury car segment is one of the most hotly contested car brackets in Australia. Manufacturers such as Audi, BMW, Mercedes and Lexus are eager to be the most popular brand out there – and that means constant innovation when it comes to performance, comfort and features.
The Mercedes-Benz C Class is one of the most popular compact luxury cars at the moment, and the German manufacturer is constantly introducing new developments to keep it ahead of the pack.  Their latest feature, one which has already appeared on the higher-end S Class and E Class models, promises to significantly enhance the way driver and passenger interact with compact cars on a daily basis.
What is it?
The touchpad is an integrated part of the Mercedes C Class's centre console, and provides an intuitive and efficient method of controlling the car's multimedia system. It consists of a raised touchpad with three capacitive buttons at its base that allow for ergonomic interaction. The touchpad offers scrolling, selection and multi-touch input just like a smartphone, and it also recognises handwriting to enable you to write messages and enter numbers in a breeze.
These gestures are used to control Mercedes' proprietary Cockpit Management and Data system (COMAND) system, which combines all of the car's interior functions into one control system – these include entertainment, navigation, phone calling and internet connectivity.
Why is it innovative?
Touchscreens are an intuitive and universal identical input method, which is usually far superior to any proprietary control system, and by fitting it Mercedes have guaranteed that even the most technophobic buyer will be able to enjoy their new car's full features.
By fitting the touchpad as standard to all C Class models, Mercedes has taken the hugely popular input system used by all modern smartphones and applied it to a car. They claim the C Class is the first car to be entirely controllable via touchpad input, rather than via buttons or other fixed controls.
First 'in class' indeed.
How much does it cost?
The base model C Class has a RRP of $60,900, with the COMAND touchpad and multimedia system available as an extra for $2,990.
Canstar Blue Innovation Excellence Award, 2015: 5 stars
About our Innovation Awards
Our Innovation Excellence Awards have been determined through a panel of judges, who adhere to a strict awards methodology – outlined below. Brands or representatives of brands submitted products for consideration to us for judging.
We also accepted consumer submissions, where anyone in the public could submit products they thought were worthy of an Innovation Award. Each submission type was given equal weighting by our judges.
A single legitimate submission was all that was needed for a product to be considered by our panel, and only submitted products were assessed.
To be described as innovative, we assess both the degree of innovation and the overall impact the product could have. In terms of degree, we consider whether there are any other similar products available, whether it is a "first" in Australia or New Zealand and whether it opens up any new markets.
We also assess the potential significance of impacts to the existing market in terms of competition. And, of course, something that's truly innovative can't help but have that "wow" factor. In terms of overall impact, we consider the number of people who can benefit from the innovation, the ease and expense of application, and the potential to change people's lives.