Motorcycle HUD by NUVIZ | Innovation Excellence
Posted by Canstar Blue April 13th 2015
NUVIZ Ride:HUD
Reviewed by the Canstar Blue Judging Panel on .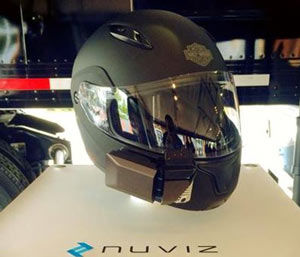 One of the great joys of motorcycling is that it's more than just a commuter vehicle. It's your modern day steed, you're the cowboy, and the roads are the Wild West – waiting to be explored. However, the modern rider needs the best technology to tackle the new frontier, and we've found something along those lines.
Anyone who's played a video game will be familiar with the concept of a heads-up display, or HUD. It's a transparent display of pertinent information that doesn't require the user to look away from their resting field of view, hence the name.
Imagine the applications of a HUD when riding a motorcycle; it could display your speed, warnings about low petrol, and everything else you can find on your bike's dashboard. But the big difference is that while you have to look away from the road to look at your dashboard, a HUD removes this problem.
It's for this reason that the Ride:HUD by NUVIZ is turning more than a few heads (figuratively).
What is the NUVIZ Ride:HUD?
The Ride:HUD is a system that attaches to a motorcycle helmet in order to provide the rider with a HUD. Attached to the mount is a small, transparent screen which unobtrusively sits in the bottom right corner of the rider's field of view. The rider can still raise and lower their helmet's visor, the device itself is waterproof, and is made of a polymer that can withstand pebbles and debris strikes. In short, it's been engineered to withstand anything the road throws at it.
The screen displays basic information such as speed and distance travelled, but can also display things such as maps/directions, weather systems in your area (handy if you're nervous about wet weather riding), incoming calls, and even your music library through a paired phone. The phone is integral to operation of the Ride:HUD, considering the system is dependent on an application which needs to be installed on your phone. That said, the HUD is controlled by a controller on the handlebar, tailored to be manipulated even if the ride is wearing the thickest of motorcycle gloves.
In addition to this, the system has a built-in camera, which can be used to shoot both stills and video. Speaking of video:
How is it innovative?
The innovation found in the design of the Ride:HUD is twofold: both the variety of data that can be shown on the display, and the fact that the system is an add-on to existing helmets, rather than a whole new helmet that needs to be purchased.
While there are other HUDs out there for motorcyclists (albeit not many), they generally only display speed. The Ride:HUD as mentioned above, can display speed, navigation advice, weather maps, and more. Motorcyclists can spend more time focusing on the road, less time pulling over to take calls or check maps, and a more significant amount of time enjoying their ride.
Couple this with the simplicity of the system, and you've got a product that all motorcyclists should be looking at (literally).
Canstar Blue Innovation Excellence Award, 2015: 5 stars
About our Innovation Awards
Our Innovation Excellence Awards have been determined through a panel of judges, who adhere to a strict awards methodology – outlined below. Brands or representatives of brands submitted products for consideration to us for judging.
We also accepted consumer submissions, where anyone in the public could submit products they thought were worthy of an Innovation Award. Each submission type was given equal weighting by our judges.
A single legitimate submission was all that was needed for a product to be considered by our panel, and only submitted products were assessed.
To be described as innovative, we assess both the degree of innovation and the overall impact the product could have. In terms of degree, we consider whether there are any other similar products available, whether it is a "first" in Australia or New Zealand and whether it opens up any new markets.
We also assess the potential significance of impacts to the existing market in terms of competition. And, of course, something that's truly innovative can't help but have that "wow" factor. In terms of overall impact, we consider the number of people who can benefit from the innovation, the ease and expense of application, and the potential to change people's lives.