MyKey by Ford | Innovation Excellence Awards
MyKey Safety Program
Reviewed by the Canstar Blue Judging Panel on .
It's a nervous time for a parent when their child gets their provisional license. It's the point at which a teenager can finally drive a car without parental supervision, and while many parents will be proud of their child's achievement, they'll be equally nervous about their safety…and dread how long it takes before their car takes a hit.
What if there was technology that encouraged responsible driving by actively restricting certain functions and features of a car? It'd be an absolute blessing for worried parents of P Platers all around Australia.
Enter: Ford's MyKey technology, a development that's leading the pack in a new wave of tech designed to keep teen drivers safe behind the wheel.
What is it?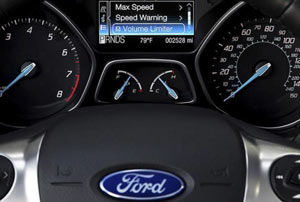 MyKey by Ford allows parents to program a car key for their child that – when inserted into the ignition – activates a certain selection of settings designed to keep the child safe, and encourage them to drive responsibly.
These settings can include (but aren't limited to) a limit on the vehicle's top speed, a feature to ensure that the driver fastens their seat belt, and a limit on the volume of the radio or sound system. If the child's mobile phone is paired with the vehicle's Bluetooth systems, the 'Do Not Disturb' function can block incoming calls and withhold texts in order to remove distractions for the driver.
The technology is based around multiple keys; the parent(s) having the master (unrestricted) key, and the child having the key with the controlled, safer settings programmed into it (the MyKey).
It comes with a variety of Ford vehicles, but is not yet a standard feature across Ford's range.
How is it innovative?
The main innovation found in the MyKey technology is the use of different keys to enforce different settings. There are many technologies that can be used to impose restrictions on young drivers, however they need to be engaged every time the child drives the car through use of the in-car interface, and can be fiddly to use repeatedly.
With the MyKey technology, all you need to do is program the settings once, and then your child is good to go; the preferred settings are encoded into their keys for as long as necessary.
With functions such as being able to permanently engage electronic stability control and emergency assist for the child driver, MyKey by Ford offers unparalleled safety for any teen driver learning how to drive responsibly.
Canstar Blue Innovation Excellence Award, 2015: 5 stars
About our Innovation Awards
Our Innovation Excellence Awards have been determined through a panel of judges, who adhere to a strict awards methodology – outlined below. Brands or representatives of brands submitted products for consideration to us for judging.
We also accepted consumer submissions, where anyone in the public could submit products they thought were worthy of an Innovation Award. Each submission type was given equal weighting by our judges.
A single legitimate submission was all that was needed for a product to be considered by our panel, and only submitted products were assessed.
To be described as innovative, we assess both the degree of innovation and the overall impact the product could have. In terms of degree, we consider whether there are any other similar products available, whether it is a "first" in Australia or New Zealand and whether it opens up any new markets.
We also assess the potential significance of impacts to the existing market in terms of competition. And, of course, something that's truly innovative can't help but have that "wow" factor. In terms of overall impact, we consider the number of people who can benefit from the innovation, the ease and expense of application, and the potential to change people's lives.