Subaru EyeSight | Innovation Excellence Awards
Posted by Canstar Blue April 13th 2015
Subaru 'EyeSight' Safety Avoidance Systems
Reviewed by the Canstar Blue Judging Panel on .
Having first been introduced exclusively in luxury cars around ten years ago, radar and camera-based safety systems are now becoming an effective mainstream solution for improving driver safety.
One of the foremost of these is Subaru's recently-introduced EyeSight system, which is currently available on selected Forester, Outback and Liberty models. What it does when you're behind the wheel and not at your best, could save your life.
What is it?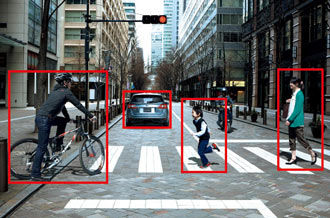 Subaru's EyeSight technology can recognise potentially dangerous driving situations and alert the driver in time, and even activate the brakes in an emergency. This means driving when you're tired, stressed or just having trouble concentrating can now be a little safer.
EyeSight consists of two cameras mounted on the front of the car beneath the windscreen which scan the road ahead using object recognition software – the dual cameras allow for depth perception to judge the position and distance of potential hazards. The system activates ten seconds after the car's engine is started, and is capable of scanning up to 80 metres ahead of the car.
When the cameras detect a potential impact, the system displays a warning for the driver, and then if no action is taken, it activates automatic braking. It can also reduce throttle acceleration to avoid collisions, detect lane swerving and prompt the driver when it detects that traffic in front has begun to move off.
Why is it innovative?
Unlike existing hazard detection systems on cars, which mostly use radar, EyeSight is a visual system that uses cameras and sophisticated software to detect objects. It will spot shapes such as cars, cyclists and pedestrians, and have baked in algorithms on how to proceed. That combined with the multiple functions mentioned above makes it a powerful driver aid in both emergencies and normal driving, and one that we hope will be rolled out to all new Subaru's in the coming years.
Canstar Blue Innovation Excellence Award, 2015: 5 stars
About our Innovation Awards
Our Innovation Excellence Awards have been determined through a panel of judges, who adhere to a strict awards methodology – outlined below. Brands or representatives of brands submitted products for consideration to us for judging.
We also accepted consumer submissions, where anyone in the public could submit products they thought were worthy of an Innovation Award. Each submission type was given equal weighting by our judges.
A single legitimate submission was all that was needed for a product to be considered by our panel, and only submitted products were assessed.
To be described as innovative, we assess both the degree of innovation and the overall impact the product could have. In terms of degree, we consider whether there are any other similar products available, whether it is a "first" in Australia or New Zealand and whether it opens up any new markets.
We also assess the potential significance of impacts to the existing market in terms of competition. And, of course, something that's truly innovative can't help but have that "wow" factor. In terms of overall impact, we consider the number of people who can benefit from the innovation, the ease and expense of application, and the potential to change people's lives.