Tesla Model S | Innovation Award Winner
Posted by Canstar Blue April 13th 2015
Tesla Model S
Reviewed by the Canstar Blue Judging Panel on .
This electric innovator needs no introduction. The Tesla Model S doesn't make sacrifices because it isn't powered by petrol, but rather leaps forward because of the sum of its parts.
What is it?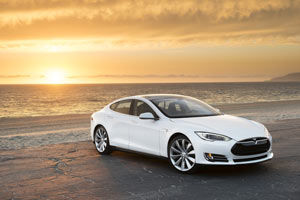 Tesla's Model S introduced a raft of technological innovations when it first went on sale a few years ago overseas. As the world's first fully electric sedan car, it promised emissions-free motoring for larger numbers of people than ever before, but it also included a number of additional innovations.
The interior functions, including HVAC, navigation, phone calls, radio and music, are all controlled from a central 17" touchscreen which can be split in two to show different windows.
Why is it innovative?
The Tesla Model S has two independently controlled motors: one above the front wheels, and one above the rear. That means this All Wheel Drive vehicle has a very sophisticated system in which the tyres grip the road, meaning you'll experience great traction when driving. Two motors means a lot more grunt too, with this vehicle able to accelerate from zero to 100 km per hour in 3.4 seconds.
In addition to its unique electric powertrain, the Model S's most innovative feature is its inbuilt Autopilot function which allows the car to almost drive itself when in dense traffic and on the open road.
The system combines a front-facing camera with 360-degree sonar sensors to determine the position of other cars on the road, allowing the Model S to accelerate and decelerate along with the car in front, as well as detect potential hazards such as pedestrians and reckless driving, for which it can brake automatically if the need arises.
You can see how these systems work in this video:
The car also parks itself with no steering input from the driver. Best of all, the car's functions are constantly being updated with wireless software updates which are downloaded via the inbuilt internet connection.
How much is it?
In Australia, the Model S starts from roughly $100,000 RRP.
Canstar Blue Innovation Excellence Award, 2015: 5 stars
About our Innovation Awards
Our Innovation Excellence Awards have been determined through a panel of judges, who adhere to a strict awards methodology – outlined below. Brands or representatives of brands submitted products for consideration to us for judging.
We also accepted consumer submissions, where anyone in the public could submit products they thought were worthy of an Innovation Award. Each submission type was given equal weighting by our judges.
A single legitimate submission was all that was needed for a product to be considered by our panel, and only submitted products were assessed.
To be described as innovative, we assess both the degree of innovation and the overall impact the product could have. In terms of degree, we consider whether there are any other similar products available, whether it is a "first" in Australia or New Zealand and whether it opens up any new markets.
We also assess the potential significance of impacts to the existing market in terms of competition. And, of course, something that's truly innovative can't help but have that "wow" factor. In terms of overall impact, we consider the number of people who can benefit from the innovation, the ease and expense of application, and the potential to change people's lives.