Volvo Active & Passive Safety Systems | Innovation Excellence
Posted by Canstar Blue April 13th 2015
Volvo IntelliSafe Systems
Reviewed by the Canstar Blue Judging Panel on .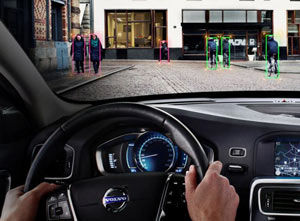 When you're in the market for a new car, one of the foremost considerations is always safety – how well your car will protect you and others in the event of a crash. Car safety has made huge advances in the past forty years, from the barebones sedans of the 1960s to the airbag-equipped and electronically aided cars that are being produced today.
When it comes to safety innovations, one car company has always stood towards the front of the pack. Volvo invented the three-point seatbelt in 1959, before making it available to other carmakers for free. The company has been at the forefront of safety innovation ever since, so it'll come as no surprise then that its latest and greatest safety system has managed to win Canstar Blue's Automotive Innovation Excellence Award.
What is it?
Volvo's IntelliSafe system is the manufacturer's latest suite of active and passive safety systems, designed to meet the company's admirable goal of having no people injured or killed in Volvo cars by 2020.
IntelliSafe consists of multiple systems designed to minimise the risk of collisions between your car and pedestrians, cyclists and other motorists. The most prominent feature is the inbuilt radar sensors around the car, which allow for a variety of useful functions. These include adaptive cruise control which matches speed with the car in front, a lane-keeping aid which alerts you if you begin to veer out of the line on the road, blind spot lights to help you change lanes safely, as well as a hands-free parking system.
Other features such as high-strength aluminium construction and active high beams* all contribute to a safer and more effortless driving experience.
* If another car approaches from the opposite side of the road, your vehicle's highbeams will dim until that car passes.
Why is it innovative?
Volvo's biggest strides with IntelliSafe have been in the protection of pedestrians and cyclists when it comes to possible collisions. Pedestrian and cyclist detection systems scan the road ahead for people and display a warning light if they detect someone in front of (or moving in front of) your car, followed by automatic braking if a collision is imminent.
Another unique innovation is Volvo's pedestrian airbag, which is stored under the back of the bonnet and deploys onto the windscreen. If a pedestrian is struck by the front of the car, the airbag deploys so they can avoid potentially fatal head injuries.
We hope that this sort of technology becomes industry-standard one day – across all manufacturers, makes and models.
How much does it cost?
IntelliSafe is included in every new Volvo car at no extra cost – which car you buy is up to you!
Canstar Blue Innovation Excellence Award, 2015: 5 stars
About our Innovation Awards
Our Innovation Excellence Awards have been determined through a panel of judges, who adhere to a strict awards methodology – outlined below. Brands or representatives of brands submitted products for consideration to us for judging.
We also accepted consumer submissions, where anyone in the public could submit products they thought were worthy of an Innovation Award. Each submission type was given equal weighting by our judges.
A single legitimate submission was all that was needed for a product to be considered by our panel, and only submitted products were assessed.
To be described as innovative, we assess both the degree of innovation and the overall impact the product could have. In terms of degree, we consider whether there are any other similar products available, whether it is a "first" in Australia or New Zealand and whether it opens up any new markets.
We also assess the potential significance of impacts to the existing market in terms of competition. And, of course, something that's truly innovative can't help but have that "wow" factor. In terms of overall impact, we consider the number of people who can benefit from the innovation, the ease and expense of application, and the potential to change people's lives.