Fitness Wearables | Innovation Excellence
Posted by Canstar Blue February 10th 2015
Huawei TalkBand B1
Reviewed by the Canstar Blue Judging Panel on .
Fitness trackers and other wearable technology are fast becoming the new must-haves for anyone who wants to keep a close eye on their physical fitness. Whether it's a minimal fitness tracker or a full-blown smartwatch, wearables can now perform functions such as tracking steps, monitoring your sleeping patterns and connecting to your smartphone to display calls and text notifications.
So with every man and his dog bringing out a piece of wearable tech, what does it take to make a new product stand out? The Huawei Talkband B1 makes a strong case for innovation in our latest results.
What is it?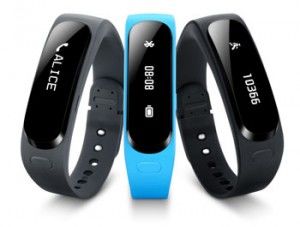 The Huawei TalkBand B1 is the company's first entrant into the wearable tech market. With a 1.4-inch OLED screen nestled in a silicone strap, the TalkBand is dust and waterproof and has a battery life that gives up to 6 days of regular use – and when it needs charging, you simply plug it into any USB port using the inbuilt connector embedded in the strap.
Like many other smart wristbands, the TalkBand connects via Bluetooth to your smartphone (and also via NFC), allowing it to display calls, texts and emails. The device tracks all sorts of useful data; such as steps taken, calories burned and sleep data – and can synchronise this with a compatible smartphone app.
These features can be used to set reminders to hit certain workout goals, and you can even set an alarm on your TalkBand to gently wake you at the optimum time based on your sleeping patterns.
How is it innovative?
The big innovation in the Huawei TalkBand's design is its versatility. This is the first smart wristband that doubles as a Bluetooth headset – you can actually remove the device from the wristband and put it in your ear to take hands-free phone calls when on the move.
The TalkBand also comes with clever functions such as vibrating when your paired smartphone is more than 10 metres away, in order to prevent your phone being forgotten or stolen; it can also be set to alert you when you've been stationary for a long time (such as at the office), to encourage you to stand up and take a break.
In short, the Huawei Talkband  B1 enriches your life by working hand in hand with both your smartphone and your schedule to keep you healthy and happy.
How much does it cost?
The TalkBand retails for $179 (at time of print).
Canstar Blue Innovation Excellence Award, 2015: 5 stars
About our Innovation Awards
Our Innovation Excellence Awards have been determined through a panel of judges, who adhere to a strict awards methodology – outlined below. Brands or representatives of brands submitted products for consideration to us for judging.
We also accepted consumer submissions, where anyone in the public could submit products they thought were worthy of an Innovation Award. Each submission type was given equal weighting by our judges.
A single legitimate submission was all that was needed for a product to be considered by our panel, and only submitted products were assessed.
To be described as innovative, we assess both the degree of innovation and the overall impact the product could have. In terms of degree, we consider whether there are any other similar products available, whether it is a "first" in Australia or New Zealand and whether it opens up any new markets.
We also assess the potential significance of impacts to the existing market in terms of competition. And, of course, something that's truly innovative can't help but have that "wow" factor. In terms of overall impact, we consider the number of people who can benefit from the innovation, the ease and expense of application, and the potential to change people's lives.