Tri-Band Router | Innovation Excellence
Posted by Canstar Blue February 10th 2015
Netgear Nighthawk X6
Reviewed by the Canstar Blue Judging Panel on .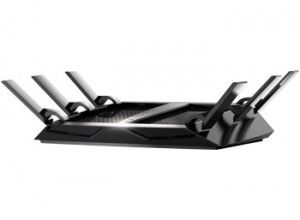 Wi-Fi routers are something that most of us overlook. Your internet provider often bundles in a Wi-Fi modem along with your installation, sets it up for you and then you never look twice at it again. However, it's often underestimated how important a good quality router is to creating a fast, reliable home wireless network.
Factors such as broadcast strength, bandwidth and many others will determine your router's effectiveness – so what can a router do to distinguish itself from the pack? Well for one, it has to be fast – real fast.
What is it?
The Netgear Nighthawk X6 is the company's newest top-of-the-line router, and – at the very least – it's one of the cooler looking routers currently on the market. Coming in jet black, the Nighthawk X6 features six configurable antennas to provide optimal reception to every area of your home, and is equipped with a 1GHz processor for fast wireless transmission.
The Nighthawk comes with inbuilt USB ports and Netgear's ReadySHARE software, which allows you to plug in a USB device and stream media from it to connected devices around the house, such as TVs, computers and tablets.
Why is it innovative?
Any of the above features would make the Nighthawk a solid router with modern features. The Nighthawk X6's biggest calling card, however, is its unique Tri-Band Wi-Fi technology that allows it to deliver incredibly fast maximum speeds. As the name suggests, the router transmits the Wi-Fi signal across three different bands – one 2.4GHz band and two 5GHz bands. This allows older devices to use the first band and newer, more capable devices to use the latter two bands, which frees up space for all devices to access the internet as fast as possible.
Rest assured, this router is ideal for online gaming, streaming movies, and garden variety social media browsing – all at once, without breaking a sweat. We also like the Nighthawk's 'beamforming' ability, in which it effectively tracks wireless devices that are seeking a connection, and then directs the signal to that location – ensuring strong performance across all devices.
One statistic we especially like is the theoretical maximum download speed of the Netgear Nighthawk X6: 3.2Gbps. That's roughly 400 megabytes per second. While it is unlikely you'll be able to reach these supersonic speeds when using the internet (service providers are unlikely to be able to send data at that rate through existing infrastructure), it's a great indicator that Netgear are putting speed and ease of use at the forefront of its router creations.
How much does it cost?
The Netgear Nighthawk X6 retails for $398 (at time of print).
Canstar Blue Innovation Excellence Award, 2015: 5 stars
About our Innovation Awards
Our Innovation Excellence Awards have been determined through a panel of judges, who adhere to a strict awards methodology – outlined below. Brands or representatives of brands submitted products for consideration to us for judging.
We also accepted consumer submissions, where anyone in the public could submit products they thought were worthy of an Innovation Award. Each submission type was given equal weighting by our judges.
A single legitimate submission was all that was needed for a product to be considered by our panel, and only submitted products were assessed.
To be described as innovative, we assess both the degree of innovation and the overall impact the product could have. In terms of degree, we consider whether there are any other similar products available, whether it is a "first" in Australia or New Zealand and whether it opens up any new markets.
We also assess the potential significance of impacts to the existing market in terms of competition. And, of course, something that's truly innovative can't help but have that "wow" factor. In terms of overall impact, we consider the number of people who can benefit from the innovation, the ease and expense of application, and the potential to change people's lives.