Coopers BrewArt BeerDroid – Innovation Award Winner
Posted by Harrison Astbury August 26th 2016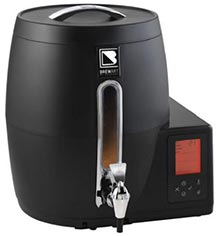 If you've been to a bar or sporting event recently, you'll know that paying $8 for a mid-strength beer can get old quickly. As alcohol prices tend to go up and up – even in bottle shops – it can be tempting to look at making your own brews. However, this comes with a certain amount of scientific expertise, patience and risk that can turn off a lot of brewsters. If only it was easy to make your own beer at home! Well now you can, thanks to the 'BeerDroid' by Coopers Beer.
Making moonshine in your bathtub may carry romantic notions but the fact is it's dangerous, and likely to be unpalatable the first time you try it. Not many people have the time to make a beer exactly to their own tastes – beer is one of the more difficult and particular alcoholic drinks to make. BeerDroid takes out this fine-tuning process and – like coffee machines nowadays – makes brewing a beer as easy as possible. It has been designed for people less concerned about price, but rather more interested in craft beers and brewing, and dispensing pub quality beer.
It's all about creating a pub experience in your own lounge. Canstar Blue's research committee was impressed, raising a glass to Coopers with an Innovation Excellence Award in August 2016.
Why is the BeerDroid innovative?
Part of Coopers' BrewArt set (which also includes the 'BrewFlo' appliance for dispending your home brew) the BeerDroid is the world's first fully-automated personal brewing system. The bottom line is that BeerDroid blows wide open a market aimed at people wanting to step into homemade beer, who don't have the time for the previously meticulous process. It's an impressive piece of kit, and changes the game, here's why:
It makes beer at the press of a button. Similar to how your espresso machine works, BeerDroid takes the fuss out of homebrew. It brews up to 10 litres of beer with all natural ingredients – malted barley and hop extracts – 

in one fell swoop of your finger on the button. On the device is a brewing window, so you can see how it's created before your eyes. As well as this, there are settings such as temperature and other details on an LCD screen to help you fine tune your brew. No longer do you have to have a chemistry degree to make a beer that's just right – BeerDroid is the beer making robot of the future.

It's Wi-Fi enabled. Yes, it's another device in the 'Internet of Things'. There is also a compatible iOS app – with an Android one in the works – that allows remote control over your brew. Are you in the lounge room watching the footy? No worries – watch the progress of your beer on your phone and fine tune all the details from there. Only get up in the ad break, or prepare your beer earlier in the week to be ready at half-time on Friday night. It's also a great thing to periodically look at while at work so you have something to look forward to when you get home.
It automatically detects when your beer is done fermenting. Historically, this has been a huge problem with home brewing, as over fermenting can lead to a yeast infection. While it doesn't kill the taste of your beer, over fermenting can lead to some interesting and unexpected flavours. When done fermenting, BeerDroid will alert you through the app. However, don't worry if you can't tend to it straight away. The BeerDroid will enter storage mode if you're not ready to keg the beer. BeerDroid simply takes the fuss out of making a batch of beer.
It's Also Worth Mentioning…
Coopers encourages you to experiment. The BeerDroid is designed to make brewing easier, but it also allows you to try out all the different beers in their line-up. From the popular Pale Ale for refreshing summer sips, all the way to the Polski Baltic Porter for those blustery winter evenings, Coopers encourages you to try out all different types of beer and find your niche.
Watch this video and we recon you'll be impressed, too:
Is the Coopers BeerDroid worth the money?
The BeerDroid is likely to divide opinion. This is especially true for the purist brewsters out there who enjoy the month-long process of doing everything from scratch. Though, if you – like many others – like a good beer and are interested in the brewing process, then it may well be worth the $699. It's also great for social occasions where brewing on a concentrate that makes 10L of beer could be well cheaper than buying a carton or two from the bottle shop.
You're also paying for top technology. Many people wouldn't blink twice at paying over $500 for an espresso machine, so for those into beer, the BeerDroid may not be that much to scoff at. It is the world's first automated personal brewing machine after all and to be at the forefront of technology, you pay the price. If you like beer, and you are generally interested in brewing your own but don't have the time or resources, then the Coopers BeerDroid may be for you.
Frequently asked questions
Canstar Blue's Innovation Excellence Awards have been determined through a panel of external and internal judges, who adhere to a strict awards methodology – outlined below. Brands or representatives of brands submitted products for consideration. We also accepted consumer nominations, where anyone could submit products they thought were worthy of an innovation award, and also conducted our own research to identify products that were worthy of consideration.
A single legitimate submission was all that was needed for a product to be considered by our judging panel. To be described as innovative, we assessed both the degree of innovation and the overall impact the product could have. In terms of degree, we considered whether there are any other similar products available, where it is a "first" in Australia or New Zealand, and where it opens up any new markets. We also assessed the potential significance of impacts to the existing market in terms of competition. And, of course, something that's truly innovative will have "wow" factor. In terms of overall impact, we considered the number of people who could benefit from the innovation, its ease of use, expense, and the potential it has to change people's lives.