Curved OLED Smart TV – Innovation Award Winner
Posted by Canstar Blue September 1st 2014
LG's Curved OLED 3D Smart TV 55EA9800
Reviewed by the Canstar Blue Judging Panel on .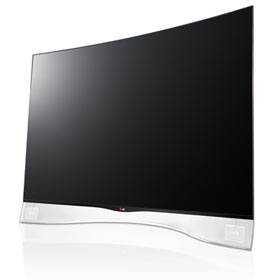 Ever since we first started producing televisions en masse, the ultimate prize for any manufacturer has been to develop a product that can best emulate the feeling of "being there".
The first hurdle was developing a colour model. Several decades later it was crucial to ensure that this content was displayed in high definition. From there, we needed bigger screens (which eventually become more and more affordable) and better picture quality – culminating in 4K resolution, where individual TV pixels are so small that a human eye cannot discern them.
Over the last few years, the introduction of widespread 3D and smart functionality means the line between TV and cinema is becoming more and more blurred, as the images before us grow larger and better defined.
So, is the curved TV screen the next step to a more immersive viewing experience? Our judges thought so when they reviewed this product for our Innovation Excellence Awards, deeming LG's latest OLED TV a real trailblazer.
What is it?
The LG 55EA9800 is a TV with a curvature radius of 5,000mm, displaying self-lighting OLEDs across a 55-inch display. It supports both USB and HDMI inputs for external device connectivity, can be voice-activated and controlled, viewed in 3D, used for internet browsing and can even mirror certain mobile phone handsets.
In short, it's a comprehensive home entertainment system.
Why is it innovative?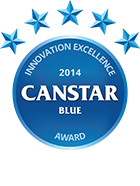 If it were just a stock standard 3D TV, this LG product probably wouldn't turn many heads, nor would it with the addendum of smart functionality. It's coupling the clarity of this OLED display with the curved design that makes this TV stand out from the crowd. It turns heads because it's closer to a cinema experience than we've ever seen, given its size, shape, display clarity and functionality.
How much does it cost?
The LG 55EA9800 currently retails for $5,999.
Canstar Blue Innovation Excellence Award: 5 stars
–
About our Innovation Awards
Our Innovation Excellence Awards have been determined through a panel of judges, who adhere to a strict awards methodology – outlined below. Brands or representatives of brands submitted products for consideration to us for judging.
We also accepted consumer submissions, where anyone in the public could submit products they thought were worthy of an Innovation Award. Each submission type was given equal weighting by our judges.
A single legitimate submission was all that was needed for a product to be considered by our panel, and only submitted products were assessed.
To be described as innovative, we assess both the degree of innovation and the overall impact the product could have. In terms of degree, we consider whether there are any other similar products available, whether it is a "first" in Australia or New Zealand and whether it opens up any new markets.
We also assess the potential significance of impacts to the existing market in terms of competition. And, of course, something that's truly innovative can't help but have that "wow" factor. In terms of overall impact, we consider the number of people who can benefit from the innovation, the ease and expense of application, and the potential to change people's lives.